World news story
Human Rights Council 34: UK statement on the human rights situation in Burma
From:

Part of:

Published:

13 March 2017
This statement was delivered during the Interactive Dialogue with the Special Rapporteur on the situation of human rights in Burma on 13 March 2017.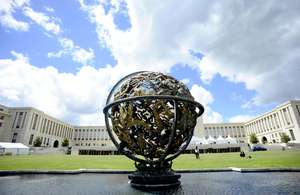 The United Kingdom thanks the Special Rapporteur for her report to the Council, which acknowledged the progress made by the democratically elected Government in its first year, while also outlining the complex human rights challenges that remain, in particular conflict-related violations in Rakhine, Shan and Kachin States.
It is clear the Government has inherited numerous challenges, and encouraging that there has been early progress with the repeal and reform of some repressive legislation. Nevertheless, the Special Rapporteur rightly highlights the scale of the challenge remaining to strengthen the laws, systems and institutions that deliver civil and political rights. The UK also shares her concerns on freedom of expression – noting the increased use of Section 66(d) of the 2013 Telecommunications Act – and forced labour, as part of the UK's focus on Modern Slavery.
The UK is deeply concerned by the escalation of fighting in Kachin and Shan States, and the response of the security forces in Rakhine State to the 9 October attacks, in particular widespread reports of conflict-related human rights violations. The devastating impact on civilians, in particular the Rohingya, has been well-documented by NGOs and the OHCHR, and perpetrators must be held accountable.
The UK stands ready to assist the Government of Burma in addressing these and other long-standing human rights challenges.
How can the international community engage Burma on human rights without damaging the delicate civilian/military balance?
Within the context of the Panglong peace initiative, what would be the best way to monitor the human rights violations in the ethnic areas?