World news story
Human Rights Council 34: UK statement in reponse to the report on Truth, Justice, Reparation and Guarantees of Non-Recurrence
The statement was delivered on the 7 March 2017 in response to the Report of the Special Rapporteur on Truth, Justice, Reparation and Guarantees of Non-Recurrence on his visit to the UK (Northern Ireland).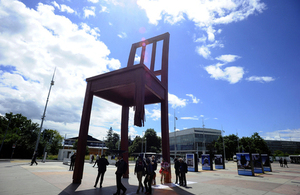 The UK Government would like to acknowledge the report of the Special Rapporteur on the promotion of truth, justice, reparation and guarantees of non-recurrence on his mission to the United Kingdom. We note the Special Rapporteur's observations on the many areas of good progress including the institutional reform that has taken place in Northern Ireland in recent decades with the formation of the Police Service of Northern Ireland and the Office of the Police Ombudsman as well as the devolution of policing and justice to the Northern Ireland Executive.
We recognise, however, that there is further work to be done. The UK Government is committed to addressing the legacy of the past in Northern Ireland in a manner that is balanced, proportionate, transparent, fair and equitable. The measures proposed by the 2014 Stormont House Agreement will help address the legacy of the past, to reduce its impact on the present and build a stronger, more prosperous Northern Ireland. Consensus on the final detail of the proposed mechanisms has not yet been achieved but intensive work is ongoing between the UK Government and the Northern Ireland Executive parties to resolve the outstanding issues. Discussion of these details was paused during the campaign period that preceded the 2 March elections to the Northern Ireland Assembly. With the election over, the UK Government expects discussions to resume.
We were pleased to welcome the Special Rapporteur to the UK and we thank him for his constructive engagement.
Published 7 March 2017