World news story
Human Rights Council 34: Joint statement under Item 10 (Race to the Top)
This joint statement was delivered during the Item 10 General Debate at the 34th session of the Human Rights Council on 23 March 2017.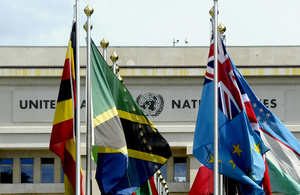 GA resolution 60/251 mandates this Council to promote universal respect for the protection of all human rights and fundamental freedoms for all, without distinction.
It sets out this Council's responsibility to address situations of violations and abuses of human rights, whilst contributing through dialog and cooperation to the prevention of human rights violations and abuses, and to respond promptly to human rights emergencies.
While progressing that critical work, we believe that the Council's broad mandate and the cause of human rights, could be helped by better identifying situations where the enjoyment of human rights has been strengthened through positive State engagement with the Council and the wider UN human rights system.
We seek to build a platform that recognises where and when this happens – to celebrate success – and to share good practice on how it was achieved.
This might include:
an annual, informal, event to recognise states' achievements
an item 10 mandated seminar in Geneva or regionally, where states can present thematic good practices - and where other states can seek partnerships and technical assistance to meet their capacity needs to protect and promote human rights
This is not an exercise in self-congratulation or in praising for praising's sake. In accordance with the principles of constructive international dialogue and cooperation, it is an exercise in recognising progress but also difficulties and shortfalls; exchanging information on how obstacles were overcome.
Sadly, this Council will still need to take appropriate preventative action, react with concern to deteriorating situations around the world and respond to human rights emergencies. But those are only part of the work, and the duty, of this Council.
We therefore commit to developing a platform throughout 2017, working closely with complementary initiatives and within existing resources where feasible, to recognise states' cooperation with the Human Rights Council, to explore how this happened and to better understand the resulting positive impact and progress.
This could ultimately serve as inspiration for others to follow-suit; encouraging and facilitating a race to the top.
Published 23 March 2017