World news story
Human Rights Council 34: Human Rights situation in Democratic Republic of Congo
This statement was delivered during the 34th session of the Human Rights Council on 22 March 2017.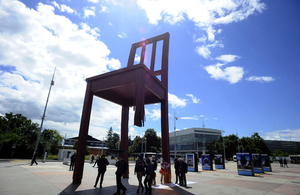 The United Kingdom would like to express its deep concern at the perilous human rights situation in the Democratic Republic of the Congo, particularly the recent violence in the Kasai region. We are alarmed by video footage apparently showing government forces shooting civilians. The UK calls for an immediate and thorough independent investigation into the violence, to ensure that the perpetrators of these grave human rights violations and abuses are held accountable.
We are also concerned by the continuing violence and human rights abuses taking place in eastern DRC. Reports indicate that mass killings are still taking place in and around the city of Beni. The government– with the support of the MONUSCO peacekeeping mission – must do everything in its power to ensure the protection of its civilians in that part of the country.
The UK notes with concern the continued shrinking of political space in the DRC including the arrests and detention of opposition members and their supporters, notably in December of last year. With elections on the horizon there is a clear risk that the government will continue to close down political space. We urge the government to adhere to democratic principles and do all it can to work towards a peaceful transfer of power.
How can the international community best support the opening up of political space in order to allow free and fair elections to take place?
Published 22 March 2017