World news story
Human Rights Council 33, UK statement on enforced disappearances and modern slavery, 15 September, 2016
UK statement for the clustered Interactive Dialogue on Enforced Disappearances and Modern Slavery.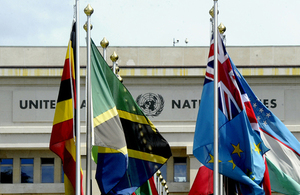 The United Kingdom welcomes the reports of both the Working Group on Enforced Disappearances and the Special Rapporteur on Contemporary Forms of Slavery and would like to address our remarks to Ms Bhoola in particular.
Ms Bhoola,
Your invaluable work is vital in the fight to end modern slavery and we call on members of the Council to renew your mandate. We particularly appreciate the fact that you have been able to engage with states after country visits and provide continuing support.
Your latest report helpfully calls on States to implement a list of actions to prevent this crime and protect victims and potential victims. In the UK we have introduced a Modern Slavery Act and put in place a number of mechanisms to help identify victims and pursue those who perpetrate this heinous crime. We support the call for States to introduce National Action Plans.
We welcome the report's focus on debt bondage, which has a particular impact on the poorest and most vulnerable in society.
We agree that action on modern slavery needs to consider due diligence and transparency in supply chains, and the importance of promoting measures to support the implementation of the Guiding Principles on Business and Human Rights.
Your report provides a comprehensive list of recommended actions for Member States. Given the broad scope of the problem of modern slavery, and its various forms, to which actions, or category of actions, would you give greatest priority?
We would also be interested to hear how you think your mandate can best support wider international efforts to achieve SDG target 8.7 which includes ending modern slavery.
Thank you, Mr. President.
Published 15 September 2016