World news story
Human Rights Council 33, UK Statement on Adoption of the Universal Periodic Review of Thailand, 23 September 2016
UK Statement on Adoption of the Universal Periodic Review of Thailand, delivered at the Human Rights Council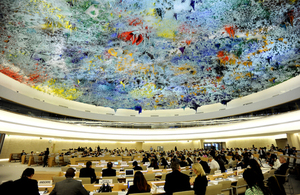 Thank you Mr President,
The United Kingdom welcomes Thailand's engagement with the UPR and its acceptance of our recommendation to create an external, independent inspection body in line with "the Nelson Mandela rules", that has access to all categories of prisoners in all places of detention that are under the Ministry of Justice.
We acknowledge several positive steps taken by the Government in parallel to the UPR process. We welcome NCPO Order 55, which stops the trial of civilians in Military Courts for acts committed after it was issued. This is the start of a necessary process towards restoring full rights for Thai citizens. We call for the order to be extended to those civilians currently before Military Courts.
We note the Government's efforts to deliver several pieces of legislation, including on criminalising torture and enforced disappearances. Human Rights Defenders who raise concerns about torture must no longer face threats and criminal charges for their actions. We welcome the creation of a body to investigate torture allegations in the Deep South.
We regret that our recommendation of Freedom of Expression was not supported and are concerned that restrictions on Freedom of Expression and Assembly remain. Human Rights Defenders are not able to operate freely, are frequently denied access to justice, and face legal cases aimed to prevent their public participation. We call for further easing of restrictions on rights and freedoms to create conditions for credible elections next year and ensure implementation of the roadmap to reform.
Thank you,
Mr President.
Published 23 September 2016