World news story
Human Rights Council 33, UK Statement delivered during the Interactive Dialogue with Special Rapporteur on Cambodia, 28 September 2016
UK Statement during the Enhanced Interactive Dialogue on Cambodia at the Human Rights Council.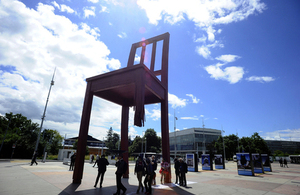 Thank you, Mr President,
We welcome the report of the Special Rapporteur and share her concerns about the deterioration of the human rights situation.
We are pleased that Cambodia will provide a mid-term UPR report, and encourage the government to work closely with the international community to ensure timely implementation of the outstanding recommendations. The valuable and constructive work of the OHCHR in Cambodia is an essential element of this cooperation and we strongly encourage the government to conclude swiftly negotiations on the Memorandum of Understanding.
We are deeply concerned by the further escalation of actions taken against opposition politicians and representatives of civil society organisations, including the conviction in absentia of the acting leader of the opposition. We hope that Cambodia's Prime Minister's recent comment about observing a political "ceasefire" will lead to meaningful political dialogue between the Cambodia People's Party and the Cambodia National Rescue Party.
We also hope that charges against representatives of civil society organisations will be dropped including the recent sentencing of the Deputy Secretary-General of the National Election Committee to six months in prison, through what we view as deeply flawed legal processes. We continue to emphasise the need for an independent and impartial judiciary, and encourage the government to implement the recommendation of the Special Rapporteur to strengthen the independence of the judiciary at all levels.
We also urge Cambodia to cooperate fully with the UN to ensure the independent and successful operation of the Extraordinary Chambers of the Courts of Cambodia.
We would like to ask the Special Rapporteur what her priorities will be for the coming year, and what measures she believes should be taken to ensure that her recommendations are implemented?
Thank you, Mr President.
Published 28 September 2016