World news story
Human Rights Council 33, UK Statement at the Enhanced Interactive Dialogue on the Central African Republic, 28 September 2016
UK Statement delivered during the Enhanced Interactive Dialogue on the CAR at the Human Rights Council.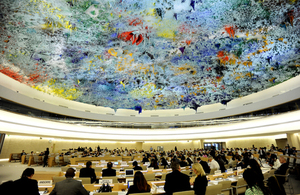 The UK thanks the Independent Expert for her work in CAR.
The UK continues to welcome CAR's co-operation with the Human Rights Council and supports President Touadera's prioritisation of Disarmament, Demobilization and Reintegration (DDR).
The UK remains deeply concerned about the fragile security and human rights situation in CAR, including the ease with which armed groups move in the ungoverned space outside Bangui. The UK is distressed by reports of ongoing violence; whether it is committed by ex-Seleka or anti-balaka, these incidences highlight the urgent need for inclusive reconciliation work to begin.
The increase in violence carried out by the Lord's Resistance Army is also disturbing. LRA attacks in eastern CAR have involved looting, violence against civilians, destruction of property and abductions.
We encourage the Government of CAR to push forward with its DDR and Security Sector Reform objectives in a way that reflects the ethnic and religious diversity of the country. Reformed and effective security forces will be a key factor in projecting stability throughout the country.
With half the population considered 'food insecure' and in need of urgent humanitarian assistance, the needs of CAR's population will remain a UK humanitarian priority. We encourage the government of CAR to remove unnecessary obstacles to humanitarian operations.
The UK will continue to work with the government and international partners to support CAR in building a future where people no longer fear human rights abuses, including sexual and gender based violence, or are reliant on humanitarian assistance.
We agree with the Independent Expert about the importance of DDR, can she tell us if there has been progress on developing agreements on disarming armed groups since her last report?
What can be done to reduce the sense of frustration and exclusion felt by young people, women, and religious communities?
Thank you, Mr President
Published 28 September 2016