World news story
Human Rights Council 33, statement delivered under Item 4, 19 September, 2016
UK statement deleivered during the 33rd session of the Human Rights Council under Item 4.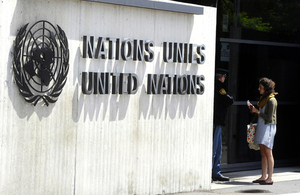 Mr. President,
The UK supports the EU statement and wishes to offer additional remarks.
In Syria, as the Commission of Inquiry's report makes clear, the suffering of civilians continues, due primarily to the indiscriminate and disproportionate attacks by the regime and its backers. We urge all parties to rally behind the US-Russia deal.
We remain seriously concerned about violations in the Democratic People's Republic of Korea (DPRK). The Government is failing to uphold its international obligations and prioritises nuclear and ballistic missile programmes over the wellbeing of its people. We call on the Government to engage with the international community, including at the HRC.
We remain concerned about the situation in Sudan, particularly restrictions on civil society and the media, freedom of religion and belief, and reports of arbitrary arrests. We welcome the signing of the AU Roadmap and urge all sides to reach agreement on a Cessation of Hostilities and Humanitarian Access.
We remain deeply troubled by the situation in South Sudan and reports of attacks on civilians and humanitarian workers. We look forward to the findings of the UN Commission of Human Rights in South Sudan following its recent visit.
We are concerned by the deteriorating situation in Egypt. Reports of torture, police abuses and enforced disappearances are deeply worrying. We call on the Government to release political detainees and end the use of pre-trial detention beyond its legal limits. Restrictions on civil society and legal action against NGOs remain of deep concern. We urge the Government to allow NGOs to operate freely, as guaranteed by the Egyptian Constitution.
We are concerned at reports of deaths and ill treatment of those in custody in The Gambia. We call on the Government to release political prisoners and ensure claims of mistreatment are investigated. The Gambian authorities must create an environment which allows full participation in the electoral process.
The UK remains concerned by reports of restrictions on freedom of religion and expression in China. New laws and regulations affecting media, NGOs and religious groups must expand the space for independent civil society and safeguard religious freedom and belief. We call for the release of those detained for peacefully exercising rights guaranteed by the Chinese Constitution and international law.
In the Occupied Palestinian Territories, the dire situation in Gaza should be addressed through infrastructure and economic development to provide opportunities and prevent further violence. In the West Bank, we work with EU partners to oppose settlement expansion and demolitions and urge all parties to comply with international law.
The civilian Government in Burma has introduced important initiatives to embed democratic reform and improve respect for human rights. But violations continue. We must stand by the Government in tackling these challenges.
Published 19 September 2016