World news story
Human Rights Council 33, statement delivered under Item 2, 14 September, 2016
UK statement deleivered during the 33rd session of the Human Rights Council under Item 2.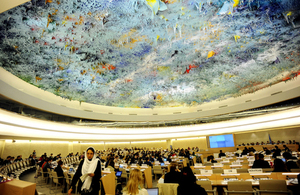 We thank you, High Commissioner, for your update, and support the European Union statement.
Mr President, The UK is concerned by recent developments in Bahrain. We continue to urge the Government of Bahrain to guarantee and protect human rights and freedoms for all its citizens. We encourage all sides to engage in constructive and inclusive dialogue to promote social cohesion and inclusivity, including political representation, for all Bahrainis. The UK will continue to work with Bahrain on its reform programme, including through strengthening its human rights institutions.
We remain concerned by the situation in Yemen. We welcome the reports from the Yemen National Commission and OHCHR. The UK believes that the best way to achieve stability is through a political solution. We will support the UN Special Envoy to Yemen in facilitating a credible peace process.
We are concerned about increasing political tension in the Democratic Republic of Congo. We call on the Government to ensure that the human rights of citizens are respected and that political opponents are not intimidated or harassed. We echo the High Commissioner's concerns about the increasing number of violations in the East of the country and condemn the recent massacres in the Beni region.
We welcome Sri Lanka's continued progress on implementing resolution 30/1, most recently through the law to establish an Office of Missing Persons. This is a significant step towards reconciliation. However, much remains to be done including: repealing the Prevention of Terrorism Act; releasing more civilian land occupied by the military; delivering on the commitment to devolve political authority through constitutional reform; and putting in place credible transitional justice mechanisms. We remain committed to the full implementation of resolution 30/1 and stand ready to help the Sri Lankan Government with this.
The UK remains concerned about the risk of serious civil unrest in Burundi. Human rights abuses continue, including disappearances, torture, arbitrary arrest, and sexual violence. We call on all parties to put Burundi back on a path to peace and reconciliation. We urge all sides to engage with the East African Community's Dialogue process to resolve the situation. The Government of Burundi must also enable the AU and UN to monitor and report on the situation on the ground, implementing UNSCR2303.
The UK believes that all countries should take responsibility for tackling irregular migration and supporting refugees. We continue to provide significant support in responding to the challenges posed by migration across the Mediterranean, including tackling the people smugglers who profit from the misery of others. We are also working with global partners to tackle the root causes of irregular migration; bringing stability to migrant origin countries by creating jobs and providing education through our significant aid programmes.
Thank you, Mr President.
Published 14 September 2016