World news story
Human Rights Council 33, statement delivered under Item 10, 29 September, 2016
UK statement delivered during the 33rd session of the Human Rights Council under Item 10.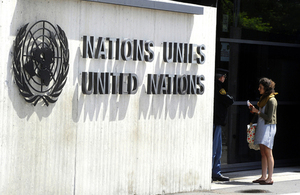 Mr. Vice President,
The UK wishes to refer the Council to its interactive dialogue statements under Item 10, noting with satisfaction positive developments in countries such as Somalia as it progresses towards elections, and of course the challenges that remain.
The UK thanks the High Commissioner for his report on Yemen. The humanitarian situation is dire and we remain extremely concerned about the impact of the conflict. Human rights violations and abuses continue on a large scale, including reports of the use of child soldiers, attacks on journalists and human rights defenders, and arbitrary detentions. We are also concerned by the destruction of civilian infrastructure and the lack of progress on improving women's rights. The UK fully supports the UN's efforts to bring about a political solution to the conflict. This remains the best way to bring long-term stability and avoid further deterioration of the desperate humanitarian situation. That is why the UK hosted a series of meetings during the UN General Assembly to work towards this goal and we support HRC's focus on Yemen. We positively note the report of the Yemeni National Independent Commission of Inquiry and encourage further cooperation between the Yemeni government and the UN to help strengthen the protection and investigation of human rights. It is vital that all parties take constructive steps to improve the situation.
We urge Bangladesh to increase engagement with human rights mechanisms. Strengthening protection and ensuring a vibrant civil society and media is essential for economic growth and social progress. We are concerned about reports of extrajudicial killings and enforced disappearances; terrorists should be held to account but human rights must always be respected.
While we welcome Thailand's constructive engagement with the UPR process, we look forward to further easing of restrictions on rights and freedoms to create the conditions for credible elections and to ensure implementation of the roadmap to reform.
The UK urges the Maldives to accept offers of international assistance and engagement on human rights. We reiterate our call for the government to engage in a political dialogue with all parties, release political prisoners, allow space for an independent civil society, and work to ensure the separation of powers of the judiciary.
We are concerned by the rising death toll associated with the war on drugs in the Philippines and plans to reinstate the death penalty. We urge respect for the rule of law, due legal process, and human rights. We hope that the Philippines will cooperate with the international human rights system to this effect.
Thank you, Mr Vice President.
Published 29 September 2016