World news story
Human Rights Council 33, introduction to the resolution on Syria, 30 September, 2016
UK statement delivered during the 33rd session of the Human Rights Council.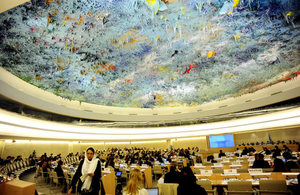 Thank you, Mr President
The UK presents this resolution on the human rights situation in Syria on behalf of a group of states: France, Germany, Italy, Jordan, Kuwait, Morocco, Qatar, Saudi Arabia, Turkey, the UK and the US.
The recent devastating events in Syria underscore the need for yet another resolution on Syria. In the past ten days we have seen the bombing of a UN convoy, the unacceptable ongoing regime offensive on eastern Aleppo, alongside other violations of the Cessation of Hostilities by the regime and other actors.
It is the people of Syria who are forced to bear the devastating impact of this carnage. It can be seen on the ashen faces of the victims of Aleppo. On the faces of the White Helmets and medical and humanitarian workers as they try desperately to save lives. On the faces of every single man, woman and child who still call Aleppo and other cities under siege in Syria their home.
We call upon the regime and its supporters, including Russia, to take steps to end the bloodshed in Syria, including by halting the indiscriminate bombing by the Syrian regime of its own people.
Mr President,
We have consulted colleagues extensively on this text. The resolution we present today calls on all parties to redouble efforts to renew the Cessation of Hostilities, respect human rights and comply with international law.
As part of our consultations, we have included in the text an oral revision to accurately reflect the devastating situation in eastern Aleppo. Member states were informed of this revision two days in advance of today's adoption.
The resolution establishes a High Level Panel to take place in March 2017 to increase the visibility of crimes committed in Syria. As the Commission of Inquiry has found, the Syrian regime is responsible for the illegal detention and possible disappearance of tens of thousands of Syrians. Non-state armed groups also continue to hold groups under brutal conditions.
The panel will give opportunity for affected populations to engage directly with the Council on these issues. We hope it will help support efforts to protect victims and ensure the need for accountability.
Mr President,
This resolution deserves the broadest support within the Council and we hope it can be adopted by consensus. To do otherwise is to let down the very people that this Council is duty bound to protect.
Thank you.
Published 30 September 2016