World news story
Human Rights Council 32, Panel discussion on the possibility of using sport and the Olympic Ideal to promote human rights for all, 28 June 2016
UK statement during the panel discussion on the possibility of using sport and the Olympic Ideal to promote human rights for all, including persons with disabilities.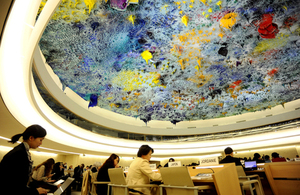 Thank you Mr President, and thank you to the distinguished panellists for their contributions
The issue of sport for all is an important one, and the UK took active steps to promote this ideal as we hosted the London 2012 Olympic and Paralympic Games. We continue to work to build on this positive legacy.

53 per cent of people said the 2012 Paralympics had a positive impact on the way they themselves viewed disabled people. Next year, the Olympic Stadium will stage the IPC (International Paralympic Committee) Para-Athletics World Cup and the IAAF (International Association of Athletics Federations) World Athletics Championships - the first time these events have been held back-to-back in the same city.

We are investing to raise levels of participation in disability sport. For instance, in the 12 months to March this year, over one and a half million people aged 16 years and over with a long term limiting illness or disability played sport once a week, which is over 17 per cent. We want to build on this.

Raising levels of participation of females is also a priority. England's Active People Survey recently reported that there has been an increase in people participating in sport, and that 75% of the 260,000 increase comprised women. This follows the success of the largely positive 'This Girl Can' campaign, run by Sport England through mainstream and social media, which was aimed at tackling the barriers to getting active faced by women.

Looking back at London 2012, one of many highlights was seeing female athletes from Saudi Arabia, Brunei and Qatar compete in the Olympic Games for the first time, meaning that each of the competing nations had women representatives.

Just over six months ago, the UK Government published a new Sport Strategy. This will change the nature of our sport funding so it is no longer merely about how many people take part, but rather how sport can have a meaningful and measurable impact on improving people's lives. As part of this, we are targeting funding at groups which have traditionally had lower participation rates. More than a half a million extra people are playing sport regularly since 2010, and there have been gains in traditionally under-represented groups such as women, disabled people and people from Black, Asian and Minority Ethnic (BAME) backgrounds.

We also welcome the initiative IHRB are taking to protect and promote human rights through mega sporting events.
Mr President,
We would like to ask the panellists..
How can businesses best contribute to promoting diversity in sports participation as part of CSR (Corporate Social Responsibility) programmes?

How have the organisers for the Rio games given effect to considerations of diversity, including by drawing on lessons from previous games where relevant?
Thank you Mr President.
Published 28 June 2016