World news story
Human Rights Council 32, Interactive Dialogue with the Independent Expert on Central African Republic, 28 June 2016
From:

Part of:

Published:

28 June 2016
UK Statement during the Interactive Dialogue with the Independent Expert on Central African Republic.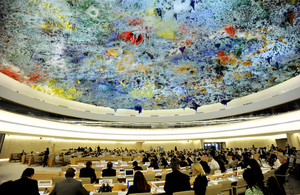 Mr President,
The UK thanks the Independent Expert for her work and the efforts of the CAR Government and international community to bring a closure to the transitional period. We support President Touadera's priorities of Disarmament, Demobilization and Reintegration, and economic reform. Long term employment opportunities are needed to provide the population with an alternative to joining an armed group. We welcome CAR's co-operation with the Human Rights Council. However, we remain deeply concerned about the fragile security situation, including the increase in violence carried out by the Lord's Resistance Army.
With half the population considered as 'food insecure' and in need of urgent humanitarian assistance, the needs of CAR's population and refugees are a UK humanitarian priority.
The human rights situation remains of deep concern. We were alarmed to hear the allegations of murder made against Republic of Congo peacekeepers, whilst serving as part of the African Union force, MISCA. The Republic of Congo must investigate these allegations thoroughly and ensure any perpetrators are brought to justice.
The UK is deeply concerned by the allegations of sexual exploitation and abuse made against international peacekeeping troops. It is vital that troop contributing countries conduct full investigations and bring perpetrators to justice. We fully support the UN Secretary General's zero tolerance approach. We want to see improved prevention, protection and response measures and welcome MINUSCA's work to achieve this.
The UK supports the role of the Independent Expert and will work with all those parties to support CAR in building a future without fear of human rights abuses or reliance on humanitarian assistance. How can the international community support those at risk of sexual violence? How will you work with the relevant authorities to ensure allegations of human rights abuses by international peacekeepers are investigated and perpetrators brought to justice?
Thank you, Mr President