World news story
Human Rights Council 32, Interactive Dialogue on High Commissioner's report on Burundi, 29 June 2016
UK statement during the Interactive Dialogue on High Commissioner's report on Burundi.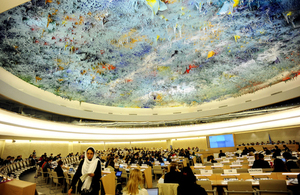 Mr President.
The United Kingdom welcomes the continued international attention on the situation in Burundi. We welcome the establishment of the United Nationals Independent Investigation on Burundi (UNIBB) and look forward to its final report in September.
You will recall that Mr Christof Heyns, UN Special Rapporteur on extrajudicial, summary or arbitrary execution and Chair of UNIBB provided an update on 22 March 2016. His update set out the human cost of the political crisis. Since April 2015, the OHCHR Office in Burundi has documented some 500 killings, 1,700 cases of arbitrary arrest and detention and 20 enforced disappearances. As of 31 May 2016, over 265,000 Burundians have been forced to flee to neighbouring countries. The International Organisation for Migration (IOM) has registered over 41,000 internally displaced people, of whom 58% are children. Unfortunately, IOM are only able to provide data on 4 of Burundi's 17 provinces – the true number of displaced people is likely to be much greater.
The dire humanitarian situation is exacerbated by poverty and other challenges, such as climate change and malaria. Recent flooding has destroyed crops, affecting some 4,000 people. The World Food Programme (WFP) estimates that prices of basic foodstuffs have risen by 200% in some areas. Almost 60% of Burundian children suffer from chronic malnourishment. Deaths from malaria – easily treatable with the right healthcare – have more than doubled.
The United Kingdom strongly supports Mr Heyns' initial assessment and we will continue to work with international partners to bring an end to the crisis. We urge all sides to end the violence and we call on Burundian government officials to condemn human rights violations and abuses, and act to end impunity.
Could you provide an update on the nine human rights monitors intended to be deployed on 1 April 2016?
Thank you, Mr President
Published 29 June 2016