World news story
Human Rights Council 32, Geneva: Report of the Special Rapporteur on the rights to freedom of peaceful assembly and of association 17 June 2016
UK statement following the report of the Special Rapporteur on the rights to freedom of peaceful assembly and of association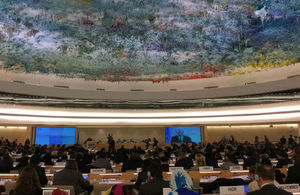 The United Kingdom supports the work of the Special Rapporteur on the rights to freedom of peaceful assembly and of association and thanks him for his report and for his visit in April.
We agree with much of the analysis in his report. We are deeply troubled by reports of Governments imposing excessive restrictions on freedom of assembly. We agree that it is for the state to provide for freedom of assembly and association, not only by ensuring that its own actions do not impinge upon that freedom but also by ensuring that non-state actors do not prevent other citizens from enjoying their right to peaceful assembly.
We disagree with the characterization of the United Kingdom in paragraph 51 as an example of a country in which the right to freedom of assembly or association is sometimes restricted by the governing party through leveraging its law-making or executive authority.
The United Kingdom notes the reference in paragraph 72 that the tactics used by the British police authorities when policing meetings of the English Defence League has dissuaded would-be counter demonstrators from assembling. The United Kingdom assures the Special Rapporteur that the British police goes to considerable lengths to allow all demonstrations whenever that can be achieved with full regard to the safety of demonstrators and other citizens.
We agree with the Special Rapporteur that a robust civil society and respect for human rights is critical in combating extremism. With regard to the Special Rapporteur's final recommendation, the United Kingdom believes that the strengthening of democracy can be very a significant factor in countering extremism.
Thank you Mr President
Published 17 June 2016