World news story
Human Rights Council 32, Geneva: Interactive Dialogue with the Commission of Inquiry on the Syrian Arab Republic, 21 June 2016
UK Statement during the Interactive Dialogue with the Commission of Inquiry on the Syrian Arab Republic.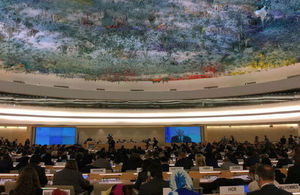 The UK thanks the Commission for its vital work and would like to reiterate our full support. We are appalled by the continuing devastation in Syria and the complete disregard for international humanitarian law and international human rights law by the regime and Daesh. We are also deeply concerned by the evidence presented by the UN Commission of Inquiry on crimes committed against persons belonging to the Yazidi community. It is vital that the international community does all it can to support the collection of evidence of violations and abuses of human rights to ensure that those responsible are held to account.
The UK condemns in the strongest terms all violations and abuses of human rights in Syria. The systematic atrocities committed by the Asad regime against the Syrian people are an outrage. We condemn unreservedly the regime's bombing of civilians and civilian infrastructure and call for the UN Commission of Inquiry to be given unhindered access to Syria. In the first week of June alone over a hundred civilians were killed in Aleppo city and three hospitals damaged.
The regime continues the arbitrary arrest, illegal detention and mistreatment of hundreds of thousands of Syrians, while callously using starvation as a weapon of war. We call for an end to enforced disappearances, for the release of those arbitrarily detained, and for UN humanitarian aid convoys to be granted full access by road. We strongly support the International Syria Support Group's call for airdrops to besieged areas if land access is not granted.
We condemn Daesh atrocities against minorities and the majority Muslim population in Syria and Iraq. We need a comprehensive political solution to the Syria conflict which will deliver a fair and inclusive government, which builds confidence and allows refugees to return, and with whom we can work to tackle Daesh and other extremists. The UK will continue to support the Syrian people to secure their future, free from Asad, and with our international partners will push for progress.
Published 21 June 2016