World news story
Human Rights Council 32, Geneva: Interactive Dialogue on South Sudan, 22 June 2016
From:

Part of:

Published:

22 June 2016
UK Statement during the Interactive Dialogue with the Commission of Inquiry on South Sudan.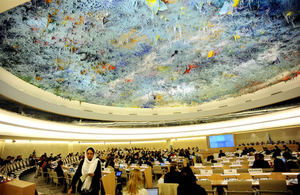 Mr President,
When this Council last met, the Office of the High Commissioner for Human Rights set out the brutal violations and abuses of human rights – including sexual and gender based violence - committed by all sides to the conflict in the past two years.
Since March, there has been significant progress on the political front. The UK welcomes the formation of a Transitional Government of National Unity and is encouraged by reports that widespread fighting has stopped. This political progress must lead to real and lasting benefits for the people of South Sudan.
We therefore call on the transitional government to: End all violations and abuses, and investigate atrocities that have taken place; Ensure the permanent ceasefire is respected and the fighting ends; Guarantee freedom of expression for all, including media and civil society, without fear of arbitrary detention; Ensure children grow up without fear of forced mobilisation into armed militias; And act upon the commitments made to the Special Representative on Sexual Violence in Conflict.
Mr President,
The leadership must not allow the country to return to the division and instability it has known for so much of its past. Reconciliation and healing are essential. So too is accountability and justice. Impunity is not an option. We look forward to the Hybrid Court for South Sudan being established rapidly.
The UK welcomes the decision to create a special commission to report on the current situation and promote steps towards accountability. We welcome the transitional government's commitment to cooperate with the commission. Tackling sexual and gender based violence must be a priority. This Council has a duty to the people of South Sudan to remain engaged.
Thank you Mr President.