World news story
Human Rights Council 32, Geneva: General Debate on Item 4, 22 June 2016
UK Statement during the General Debate on Item 4.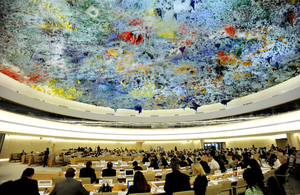 Thank you, Mr. President.
The UK supports the EU statement and wishes to make some national remarks.
We are appalled by the continuing devastation in Syria and the complete disregard for international law by the regime and Daesh. We condemn unreservedly the regime's bombing of civilians and civilian infrastructure, and their callous starvation and besiegement of civilians. We call for the UN Commission of Inquiry and UN humanitarian aid convoys to be granted full access.
In Burma the new government have made early progress, but will need the support of the international community as they begin to tackle the desperate situation of the Rohingya in Rakhine and build a sustainable and comprehensive peace.
We call on the government of the DPRK to re-engage with the Human Rights Council and implement its Universal Periodic Review recommendations.
The UK urges Iran to implement its international commitments fully, to engage with the UN Special Rapporteur, and to respect the rights of all its citizens.
We are concerned by the deteriorating situation in Egypt, particularly restrictions on civil society, detentions of political activists and reports of torture and enforced disappearance. We call on Egypt to release political detainees, end the use of pre-trial detention beyond its legal limits, and allow NGOs to operate freely.
We urge tangible improvements in Eritrea's human rights record, including amending its national service system, fully implementing its constitution and releasing those arbitrarily detained.
In the wake of student protests and the detentions of pastors, we urge the government of Sudan to respect freedom of expression, and freedom of religion or belief for all.
Violations and abuses of human rights continue in South Sudan despite the peace agreement. We urge the new transitional government of national unity to take action, including implementing commitments to address sexual violence.
We remain concerned by the situation in the Occupied Palestinian Territories, where violence has resulted in deaths and injuries. We condemn the recent executions by Hamas. We also remain concerned by the treatment of Palestinian detainees and strongly oppose settlement building and demolitions.
Thank you Mr President.
Published 22 June 2016