World news story
Human Rights Council 32, Geneva: 10th anniversary statement, 13 June 2016
From:

Part of:

Published:

13 June 2016
United Kingdom of Great Britain & Northern Ireland Statement celebrating the 10th anniversary of the Human Rights Council, 13 June 2016.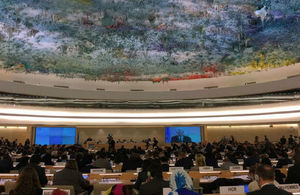 Mr President,
The UK is pleased to participate in this panel discussion to mark the 10th anniversary of the Human Rights Council.
As we reflect on the first decade of the Council, we can be proud of its achievements in strengthening the UN's work on human rights. Most importantly, we have seen increased engagement with the HRC and its mechanisms: whether from states requesting technical assistance or through support provided to Least Developed Countries and Small Island Developing States; a steady growth in standing invitations to the UN's Special Procedure mechanisms; and the Universal Periodic Review mechanism, an innovation of the Council, which has allowed a dialogue with all states on their compliance with their human rights obligations. We have also seen a steady increase in the scope of countries and issues addressed by the HRC, accompanied by the use of country resolutions by states from all regions of the world and a greater use of Special Sessions in comparison to its predecessor body, the Commission on Human Rights. We can also be proud of consensus forged on topics such as combating religious intolerance, where previously there was none.
However, the UK strongly believes that the next decade of the HRC must focus on implementation and the translation of words into concrete action on the ground. The third cycle of UPR must focus on helping states implement their recommendations. There also remain many challenges around the implementation of resolutions passed by this Council. Too often, procedural devices are used to try and silence debate on issues of importance. We have seen too many attempts to weaken universal values. And, we are still not using HRC mechanisms as effectively as we could be to provide early warning.
The UK would like to ask the panellists: how human rights can be mainstreamed more effectively across the work of the UN? And, how the UPR might be most effectively strengthened in its third cycle?