World news story
Human Rights Council 31, UK statement on Preventing Violent Extremism
Statement made during the panel debate on preventing violent extremism, Geneva, 17 March 2016.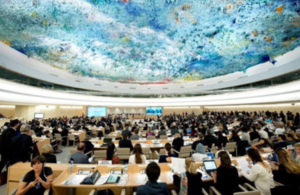 Thank you Mr President.
The United Kingdom welcomes this opportunity for further debate and thanks the panellists for their expert contributions.
The United Kingdom's approach to this challenge rests on the mutually reinforcing relationship between countering extremism and protecting and promoting human rights. The idea that one religion is superior to the others – when promulgated by states and authorities, as opposed to individuals – tends to legitimise an extremist world view. The answer, tolerance, is easy to say, but we know from our own history how hard that is to achieve. That is why respectful, evidence-based debate about these matters at the UN is so important.
The UN Secretary-General's Plan of Action to Prevent Violent Extremism, which we strongly endorse, underlines that to be effective, sustainable and meet Member States' obligations under international law, all legislation, policies, strategies and practices to prevent violent extremism must be grounded in human rights and the rule of law.
Furthermore we firmly believe that the systemic protection and promotion of human rights is fundamental to tackling the root causes of extremism. This requires:
• First, an environment in which the legislature, media and civil society can conduct robust and comprehensive scrutiny of government policy and practice, and treat all equally, regardless of their religion or belief;
• Secondly, a domestic legal framework which defines, protects and promotes human rights, complies with international human rights treaty obligations, and offers access to independent remedy;
• Thirdly, constructive cooperation with international human rights mechanisms, including openness to peer scrutiny through the Universal Periodic Review process;
• Fourthly, an education system which instils the principles of equality, tolerance and mutual respect;
• Fifthly, criminal, judicial and penal systems which are transparent, accountable and fair.
In countering violent extremism the United Kingdom sees promotion of human rights not merely as a compliance issue but as the very bedrock of success.
Societies that value and uphold freedom of religion or belief; rule of law; equality and non-discrimination; the rights of women and girls, and the importance of civil society are societies which will enjoy the greatest resilience against extremism.
We would welcome further opportunities for exchanges of best practice, and hope that the Council will keep this issue high on its agenda.
Thank you.
Published 17 March 2016