World news story
Human Rights Council 31, UK Statement during the Interactive Dialogue with the Special Rapporteur on the situation of human rights in Iran, 14 March 2016
UK Statement during the Interactive Dialogue with the Special Rapporteur on the situation of human rights in Iran Dr. Ahmed Shaheed, 14 March 2016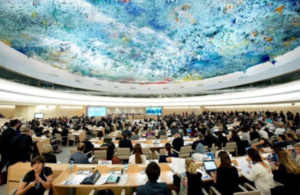 Thank you Mr Vice President,
We welcome the report of the Special Rapporteur, and urge Council Members to support the extension of his mandate in this Council session. We remain deeply concerned by the current human rights situation in Iran.
In particular we remain concerned about the number of executions referred to in the Special Rapporteur's report, including that the first 6 months of 2015 saw a record number of executions. We fully support the Special Rapporteur's recommendations that the death penalty not be imposed for crimes committed by juveniles.
The United Kingdom continues to supports the Special Rapporteur's recommendation that the Iranian authorities should immediately commute the death sentences against all political prisoners and prisoners of conscience. We urge Iran to comply with minimum international standards for those countries which have not yet abolished the death penalty.
The United Kingdom supports freedom of assembly and freedom of expression for all. We agree with the Special Rapporteur's recommendation that non-governmental organisations, including unregistered associations, should be allowed to function freely, and their members should be able to operate in a safe environment.
The United Kingdom joins the Special Rapporteur in calling on the Iranian government to amend laws that violate the rights of women, including their right to freedom of movement, work, and the right to be free of discrimination, especially in the workplace.
Questions:
The United Kingdom remains deeply concerned by the treatment of all religious minorities in Iran, including the Baha'i and Christian communities. What more can be done so that the situation in Iran becomes more favourable towards religious minorities in Iran in the short, medium and long term?
The United Kingdom promotes freedom of speech and access to information. However the Iranian authorities routinely try to restrict access to uncontrolled information within Iran, as well as attempting to stop information from Iran being sent to the outside world. How can we encourage the Iranian government to respect international standards relating to freedom of expression, internet censorship, the harassment and arbitrary arrest of journalists, and freedom of the press?
Thank you.
Published 14 March 2016