World news story
Human Rights Council 31, UK statement concerning the Special Rapporteur on the situation of human rights in DPRK, 14 March 2016
UK Statement during the Interactive Dialogue with the Special Rapporteur on the situation of human rights in DPRK, 14 March 2016.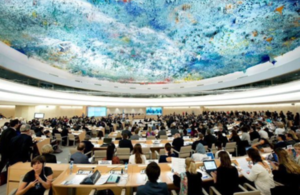 Thank you Mr President,
The United Kingdom welcomes the Special Rapporteur's report on the role and achievements of the Office of the United Nations High Commissioner for Human Rights on the Democratic People's Republic of Korea.
We would like to thank Mr Darusman for the excellent work he has done to highlight the DPRK's human rights violations during his tenure as Special Rapporteur. In particular, we would like to thank him for his work on the Commission of Inquiry report. This was an important first step in the process of documenting the extent of human rights violations in the DPRK.
The UK remains deeply concerned by the DPRK's human rights record. The Special Rapporteur's most recent report brings into sharp focus the need to maintain international pressure on the regime in DPRK to address the regular violations that continue to take place in their country. His report shows that freedom of expression, movement, religion and the right to a fair trial are rights which are still denied to DPRK citizens. Reports of arbitrary detention in prison camps, torture and executions are distressing.
We urge the DPRK to engage with the international community on the Special Rapporteur's report and the findings of the Commission of Inquiry. In addition, we call on the government of the DPRK to take immediate action to end human rights violations and allow international human rights monitors free and unhindered access to their country.
We welcome OHCHR's work and are grateful for this report on the activities of their office in Seoul. We fully support the vital work of the Special Rapporteur, and the need for the mandate to be extended.
Mr Special Rapporteur,
How can we build on the limited areas where the DPRK is willing to engage on human rights, and use that to expand the scope of the international community's dialogue?
Thank you.
Published 14 March 2016