Human Rights Council 31, Geneva: UK Statement under Item 10
UK statement delivered under Item 10 at the 31st session of the Human Rights Council, 23 March 2016.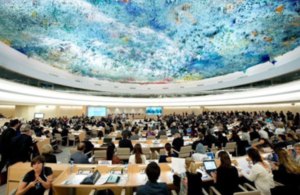 Mr. President,
The UK aligns with the statement made on behalf of the EU and would like to make some additional remarks. The UK would like to take this opportunity to encourage all states to work with the OHCHR to strengthen human rights.
The UK welcomes the peaceful, free and fair Presidential elections held in Côte D'Ivoire in October 2015. This is another step confirming their recovery from the post-electoral crisis of 2010-11.
The UK remains concerned about massive inequalities within society in Haiti and calls on the government to address the underlying factors.
Elections in the Central African Republic passed peacefully. But freedom of religion or belief, gender equality, and civil and political rights remain under pressure, and there is an urgent need to address sexual violence.
In Thailand, restrictions on the freedoms of assembly and expression need to be lifted, especially in relation to discussion of the Monarchy. The use of military courts to try civilians, poor prison conditions, the non-recognition of refugees and those seeking asylum, and the exploitation of migrant workers are also of concern.
The UK is concerned by recent extremist attacks against secularists and religious minorities in Bangladesh.
We are concerned about the recent shrinking of civil society space in DRC, including arbitrary arrests and detentions of opposition activists.
The UK is concerned by the extent of violations and possible war crimes reported in the OHCHR investigation on Libya, which underlines the need for a unity government to restore peace and respect for human rights.
The indiscriminate targeting of civilians and a culture of impunity in Somalia must end. We welcome the steps taken by the Federal Government of Somalia and encourage the fulfilment and effective implementation of the human rights commitments made.
We remain deeply concerned about the Human Rights situation in Yemen. The UK fully supports the UN's efforts to bring about a political solution to the conflict.
Thank you.
Published 23 March 2016