World news story
Human Rights Council, 30th Session: United Kingdom of Great Britain & Northern Ireland, Statement under Item 2
Statement delivered by the UK Mission Geneva at the 30th Session of the Human Rights Council, Geneva.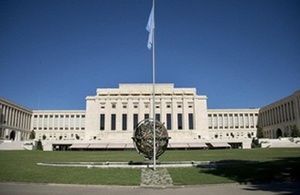 Thank you, Mr. President.
Thank you High Commissioner for your report. We align ourselves with the EU statement. We remain gravely concerned about the erosion of human rights in a number of countries, including in Sudan and Burundi, which we will address later this session.
The situations in Syria and Iraq remain of the most serious concern with grave violations and abuses of human rights being carried out by actors including the Assad regime and ISIL. We continue to push for an inclusive political settlement in Syria, support the Government of Iraq and work for the defeat of ISIL.
The UK is deeply concerned by continued reports of war crimes and human rights violations and abuses by all sides of the Libyan conflict. We urge all Libyan political leaders to restrain their associated forces, and to make progress without delay towards a Government of National Accord. Failure risks allowing the space controlled by ISIL to expand.
We remain concerned by the widespread violations and abuses in Yemen. A political solution remains the best way to bring long-term stability to Yemen and greater respect for human rights.
The UK continues to have serious concerns regarding judicial independence and declining democratic space in the Maldives. We urge the government to take urgent action to reverse this decline, to reform the judicial system to meet international standards and to protect the rights of all Maldivians.
We welcome the progress made by the government of Sri Lanka and encourage it to fulfil its commitments to the High Commissioner, to consider in full the OHCHR report's recommendations and to establish credible and consultative reconciliation and accountability mechanisms to help bring lasting peace and justice to Sri Lanka.
In Egypt, we are concerned about detentions of civil society activists and journalists, and restrictions on human rights organisations. Implementing Egypt's constitutional protections for the media and civil society is fundamental to long-term stability. It is vital that activists are released and human rights organisations can work freely.
The UK continues to support the Government of Bahrain's reform programme, including the further development of human rights oversight bodies. We continue to encourage the Government's scope and pace of reform. We note the recent announcement by the Bahraini Foreign Minister regarding an agreement with the OHCHR but urge Bahrain to sign the agreement as soon as possible.
Migration is a big challenge for us all. The UK is fulfilling our moral responsibilities by meeting our commitment to spend 0.7 per cent of our gross national income on aid; by being the second biggest bilateral donor to Syrian refugees in camps in the region; and by providing resettlement for many thousands of Syrian refugees, while working on long-term solutions to this crisis.
Published 14 September 2015