World news story
Human Rights Council, 30th Session: Statement by the United Kingdom of Great Britain and Northern Ireland
The UK delivers National statement during the Interactive Dialogue with the Independent Expert on Sudan, Geneva, 30 September 2015.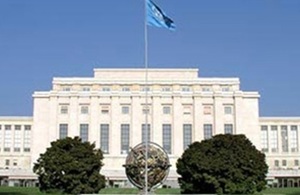 Thank you Mr President.
The UK thanks the Independent Expert for his report, which sets out the "enormous human rights challenges" faced by Sudan. We remain deeply concerned by the deteriorating human rights situation in the country, which the government must address.
We receive regular reports of violations and abuses in Darfur, South Kordofan and Blue Nile, and remain deeply concerned by continued access restrictions for humanitarian agencies. We urge the government to give the Independent Expert unrestricted access to these areas.
The report highlights "widespread impunity" in the conflict areas. The government must ensure no-one is above the law, investigate all reported violations and abuses, and provide access to justice. We regret there has been no independent investigation into the alleged mass rape in Tabit in October 2014.
Sudan's legislation is increasingly incompatible with its international commitments and constitution, including with respect to freedom of religion or belief. We call for comprehensive reform of the national security legislation, in particular the National Security Act 2010, which is used to restrict the operating space of political groups, the press and civil society.
Mr President
It is always preferable for countries to cooperate with this Council under agenda item 10. But such cooperation is only meaningful if the Sudanese government acknowledges the gravity of the human rights situation. We note in the report that the government has endorsed the Independent Expert's understanding of his mandate, and urge the government to implement his recommendations.
Mr Nononsi, how are you working with the government to ensure that civil society is involved in addressing these issues, and that previous recommendations are implemented?
Thank you.
Published 30 September 2015