World news story
Human Rights Council, 30th Session: Statement by the United Kingdom of Great Britain and Northern Ireland
The UK delivers its statement during the Interactive Dialogue with the Independent Expert on the Central African Republic (CAR), Geneva, 29 September 2015.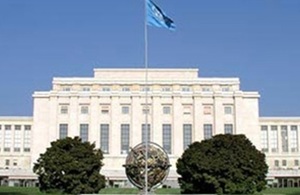 Thank you, Mr President,
The UK thanks the Independent Expert for her report, which reflects the achievements made by the transitional Government and international community as well as detailing the challenges ahead. We welcome the Central African Republic's co-operation at this session of the Human Rights Council. However, we remain deeply concerned about the fragile security and humanitarian situation in the Central African Republic and condemn the violence against civilians and the humanitarian organisations seen in Bangui and Bambari this week.
The needs of CAR's population and refugees remain a UK humanitarian priority. Humanitarian needs will remain significant over the coming years with a quarter of the population affected by food insecurity.
As the Independent Expert details in her report, addressing impunity is vital. The passing of the law creating a Special Criminal Court is a positive move. The UK is working with international partners and CAR authorities as part of the Reference Group intended to support the Court. Rebuilding CAR's judiciary is also essential.
Strengthening security is of great importance for CAR's population. The signing of the agreement at the Bangui Forum between the transitional government and armed groups on the principles of disarmament, demobilization, reintegration and repatriation, as detailed in the Independent Expert's report, was an important stage. It is vital for the agreement to be implemented now and for international forces to make progress with disarmament. Security sector reform will also be essential to underpin security.
We agree with the Independent Expert that the transitional Government should adopt the decree on establishing a rapid response unit to combat sexual violence. How can the international community best support women and children at risk of sexual violence?
The UK supports the recommendations made by the Independent Expert and will continue to work with the transitional government and international partners.
Thank you, Mr President.
Published 29 September 2015