World news story
Human Rights Council, 30th Session: National Statement by the United Kingdom of Great Britain and Northern Ireland
The UK delivers its statement on the adoption of the Universal Periodic Review Report on Libya, 25 September 2015.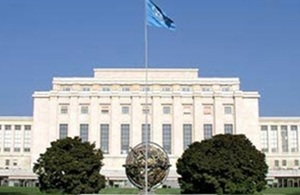 Thank you Mr President,
We welcome Libya's constructive engagement with the UPR. We acknowledge the challenges that Libya faces and commend their acceptance of many recommendations despite this.
The UK notes with concern that Libya has a limited capacity to investigate all human rights violations, including assassinations of journalists and human rights defenders. It is imperative that all such violations are investigated and the perpetrators brought to justice.
On protecting the rights of ethnic, religious and political minorities in Libya, including in the Constitution, the UK was encouraged that a committee has been created to draft the constitution with elected members and the rights of minorities was enshrined in the draft. It is vital that the committee and the Constitutional Drafting Assembly act on feedback from civil society to further improve and finalise the text, to ensure that it has broad public support.
It is crucial that all parties and their associated forces commit to UN Special Representative Bernardino Leon's final text from the Libya political dialogue, paving the way for the establishment of an inclusive and representative Government of National Accord able to stabilize the country and become an effective partner in the protection of human rights.
Published 28 September 2015