World news story
Human Rights Council, 22nd Session of the Universal Periodic Review, Geneva, 4 May 2015
The UK delivers a statement on the Universal Periodic Review of Belarus, 4 May 2015, Geneva.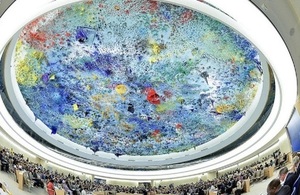 Thank you, Mr President.
The UK thanks Belarus for its UPR report.
We welcome the invitation to OSCE election observers. We urge Belarus to improve the democratic standards for the upcoming elections, and cooperate with international human rights mechanisms, in particular the Special Rapporteur on Belarus.
We are concerned that in 2014 the Belarusian authorities carried out three executions, and about severe restrictions on freedoms of assembly and expression. We were disappointed legislation was introduced this year further restricting media freedom.
We recommend:
To introduce a moratorium on the death penalty as a first step to abolition; to produce a national plan to accede to the Second Optional Protocol of the ICCPR; and to immediately change the process of carrying out executions by notifying the family of the date of execution and burial site.

To provide the legal framework for the establishment of a National Human Rights Institution in accordance with the Paris Principles, and in consultation with civil society.
Thank you.
Published 5 May 2015