World news story
Human Rights Council, 22nd Session of the Universal Periodic Review, Geneva, 4 to 15 May 2015
The UK delivers its statement on the Universal Periodic Review of Andorra, 7 May 2015.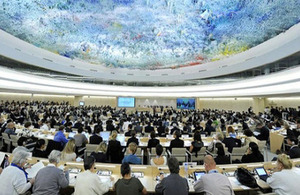 The United Kingdom welcomes the detailed national report submitted by the Government of Andorra and the steps taken to address the recommendations of the last review. The Government of Andorra has demonstrated its commitment to the promotion and protection of human rights through its efforts to adopt domestic legislation that reflects international human rights standards.
We are pleased to see the adoption of the 2009 Labour Relations Code that prohibits discrimination on the grounds of sex and the establishment of the National Equality Commission in 2010. We encourage the Government of Andorra to continue its efforts to achieve gender equality and eliminate stereotypes about women.
We commend the Government of Andorra for work it has done with regard to the rights of migrants, refugees and asylum seekers. We encourage further action in this area including the establishment of a refugee status determination procedure that is fully gender and age-specific.
Eliminating all forms of torture and other inhuman or degrading treatment or punishment is a key priority for the UK. We hope that the Government of Andorra will soon ratify the Optional Protocol to the Convention against Torture and Other Cruel, Inhuman or Degrading Treatment or Punishment.
We look forward to sustained progress that addresses the concerns raised during the UPR process.
The United Kingdom has two recommendations:
Ensure that further steps are taken to address anti-discrimination issues and ensure the National Plan of Action for Equality addresses all areas of the Convention to Eliminate All Forms of Discrimination Against Women (CEDAW).

Adopt a national plan against human trafficking and provide assistance to all victims of trafficking regardless of the form of exploitation.
Published 7 May 2015