World news story
Human Rights Council: 18th Session of the Universal Periodic Review Working Group, Geneva, 27 January to 7 February 2014
Statement by UK Mission Geneva on the Universal Periodic Review of Afghanistan, 27 January 2014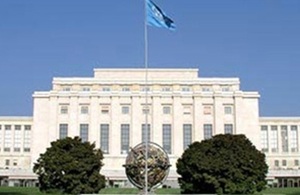 Thank you Mr President,
The United Kingdom welcomes Afghanistan's progress since their last review.
However, we have some concerns regarding freedom of expression and association, including acts of violence towards journalists and civil society members.
We are also concerned about allegations of mistreatment of detainees by the Afghan Security Forces. Could we ask how the authorities will tackle this?
We welcome work on children in armed conflict, but many children continue to be victims of domestic abuse. How will the authorities address this, and tackle forced marriage and violence against women?
Finally, we strongly encourage Afghanistan to abolish the death penalty.
We have 2 recommendations:
To repeal article 398 of the Penal Code which gives perpetrators of honour killings legal concessions.

That the Afghan Independent Human Rights Commission is given the independence and legal authority to hold to account perpetrators of detainee mistreatment.
Thank you Mr President.
Published 29 January 2014