Human Rights Council: 17th Session of Universal Periodic Review Working Group, Geneva, 21 October to 1 November 2013
Statement by UK Mission Geneva on the Universal Periodic Review of the Republic of Congo, 30 October 2013.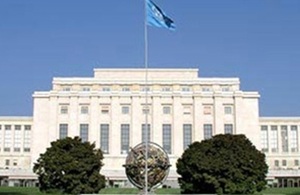 Thank you Mr President,
We welcome the delegation of the Republic of Congo to Geneva and we recognise the human rights improvements in country since the last UPR.
The UK is however concerned that the 2009 commitments on abolishing the death penalty have not been fulfilled. We therefore urge the Government to ratify, in this regard, all relevant international instruments.
The UK welcomes the efforts by the Republic of Congo to promote gender equality. However, challenges remain, including unequal access to education and health and discrimination against women.
We note that there are regular reports of torture in places of detention. It is also unacceptable that victims often fear reprisals whilst perpetrators enjoy impunity.
We therefore recommend that the Republic of Congo:
completes the review of legislative codes on preventing and punishing torture by the end of 2014

increases its efforts to ensure the full realisation of women's civil, political, economic, social and cultural rights by establishing national programmes to empower women's organisations and groups through the provision of technical and financial support and microcredit
Thank you Mr President
Published 30 October 2013