World news story
Human Rights Council: 17th Session of Universal Periodic Review Working Group, Geneva 21 October to 1 November 2013
Statement by UK Mission Geneva on Mexico's Universal Periodic Review, 23 October 2013.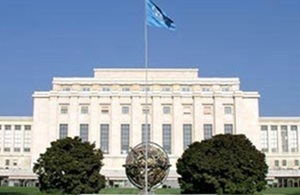 Thank you Mr President,
The UK welcomes the Mexican Government's renewed emphasis on improving human rights and considers the establishment of the Mechanism to Protect Human Rights Defenders and Journalists a significant step forward. We urge Mexico to prioritise implementation of the human rights commitments in the Pact for Mexico.
Following welcome reforms of the judicial system, we remain concerned about limits to freedom of expression, particularly violence against journalists, and about other vulnerable groups, including human rights defenders, women, children, indigenous people, migrants and other minorities. We urge further reform and implementation, and continued efforts to increase transparency and reduce impunity and corruption, which remain significant obstacles to respect for human rights and the rule of law.
We recommend:
That Mexico reinforce its efforts to tackle impunity and corruption nationwide via the creation of a federal anti-corruption institution with the ability to prosecute; and through the allocation of adequate resources to the investigate and prosecute crimes against women and children;.

That Mexico strengthen and expand the Mechanism to Protect Human Rights Defenders and Journalists including by providing it with adequate resources and powers to carry out its work and creating a mechanism for consultation with indigenous and other communities affected by land transactions.
Thank you Mr President.
Published 23 October 2013