World news story
Human Rights Council : 17th Session of Universal Periodic Review Working Group, Geneva, 21 October to 1 November 2013
Statement by UK Mission Geneva on Nigeria's Universal Periodic Review, 22 October 2013.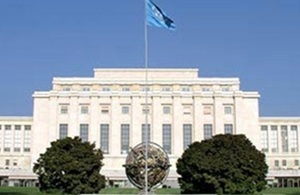 Mr President,
The United Kingdom thanks Nigeria for its national report.
The UK recognises that the Nigerian government and its security forces have a legitimate right and responsibility to respond to terrorism. However, the UK is concerned by allegations of torture and extra judicial killings by elements of the Nigerian security forces.
The UK recommends that Nigeria:
Investigate all reports of extra judicial killings in an independent and transparent manner and commit to bring to justice members of the security forces found to have been involved in such violations.
Establish a human rights monitoring system, which allows access to detention centres in northern Nigeria, works with affected communities and promotes accountability for serious violations of human rights.
The UK is also concerned about reports on the treatment of individuals detained during counter terrorism operations. We call on the Nigerian Government to take urgent steps to investigate reports of human rights abuses by the Nigerian security forces and to urgently improve conditions. We have shared our concerns with the Government of Nigeria.
Few of these allegations have led to credible and independent investigations by the Nigerian government, fuelling concerns regarding impunity and a lack of accountability.
Thank you.
Published 23 October 2013