World news story
Human Rights Council: 17th Session of the Universal Periodic Review Working Group, Geneva, 21 October to 1 November 2013
Statement by UK Mission Geneva on the Universal Periodic Review of Israel, 29 October 2013.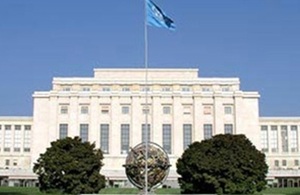 Mr President,
The UK welcomes Israel's participation in the UPR and the positive steps taken by Israel since the last UPR cycle, including ratification of the Convention on the Rights of Persons with Disabilities in 2012 and continued efforts to promote women's rights.
The UK has two recommendations:
First, given continued concerns regarding lethal use of force, that Israel implements the recommendations of the second Turkel Commission report, concerning domestic mechanisms for investigating complaints in relation to violations of the laws of armed conflict.
Second, that solitary confinement of child detainees is ended, and that audio-visual recordings are made of all interviews with child detainees by the Israeli police and security forces.
The UK remains deeply concerned about Israeli practices in the Occupied Palestinian Territories, including the frequent demolition of Palestinian property in Area C and East Jerusalem; the building of illegal settlements and the route of the separation barrier. We are also concerned by Israel's policing of non-violent protests; extensive use of administrative detention; and the continued movement and access restrictions placed on the Palestinian population, particularly in Gaza. The UK calls on Israel to abide by its obligations under the Fourth Geneva Convention.
The UK hopes that dialogue between the Israeli government and the Bedouin will result in an agreed way forward to develop the Bedouin communities in the Negev, respecting the equality of all of Israel's citizens under the law and avoiding forced relocation.
Thank you
Published 29 October 2013