Human Rights Council: 17th Session of the Universal Periodic Review Working Group, Geneva, 21 October to 1 November 2013
Statement by UK Mission Geneva on the Universal Periodic Review of Belize, 28 October 2013.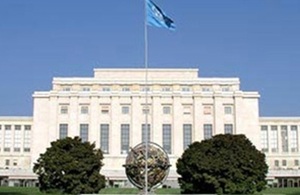 Thank you Mr President,
The UK welcomes the delegation from the Government of Belize and thanks them for their comprehensive report.
The UK supports Belize's commitment to gender equality and notes the revisions made to the National Gender Policy in March 2013. Despite the reduction of women's representation in the Belizean Legislative Assembly in 2009, we recognise the ongoing work between the UN Development Programme and the National Women's Commission.
The UK welcomes that Belize has not carried out the death penalty since June 1985, but remains disappointed that in 2012 Belize was unable to join 111 other states in supporting a worldwide moratorium on executions, as a step towards total abolition.
The UK is a strong supporter of equality in the enjoyment of human rights and the inadmissibility of discrimination on the grounds of sexual orientation. We therefore welcome comments made by the Prime Minister of Belize on 21 September which recognised the duty of his government to ensure that "all citizens, without exception, enjoy the full protection of the law", and his reference to the Constitution which declares that "all persons are equal before the law, and entitled to non discrimination… and freedom from unlawful attacks on their honour and reputation".
The UK would like to make two recommendations:
That Belize take steps to remove domestic legislation that outlaws same sex activity between consenting adults, and develop policies to address discrimination against LGBT people;

That Belize undertakes a public consultation on the complete abolition of the death penalty.
The UK has also submitted several advance questions and we look forward to the response. Thank you Mr President.
Published 28 October 2013