World news story
Human resources management standards promoted in Macedonia
Publication of new tool to help human resource professionals in the Macedonian public sector.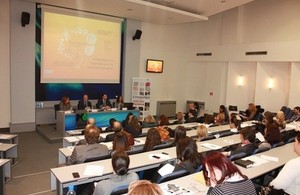 On 18 February in Skopje under a British Embassy supported project, a new guide on Human Resources Management Standards (PDF, 2.58MB, 150 pages) was launched for use in the public sector. The standards set out in the guide will help human resources managers and practitioners in developing human potential in the public administration. They address issues such as recruiting quality staff to work in the public administration, developing staff, performance management, a framework of core competences and ways to maintain good organisational performance. This activity is part of the overall reform effort that the Macedonian administration is making including through legislative amendments and the introduction of a merit-based system of recruitment and development.
Our Ambassador Christopher Yvon and Ivo Ivanovski, Minister for Information Society and Administration, promoted the new standards and underlined the importance of an efficient and effective public administration. In his address Ambassador Yvon said:
I am delighted to see so much enthusiasm for a system of merit-based recruitment and development. I am also pleased to see the private sector interested in this area, as Macedonia has a genuine and exceptional opportunity to build a partnership between public and private sector institutions as they learn to embed new human resource standards. Public administration is a crucial area to develop, as the customers – the whole population of over 2 million people in Macedonia – bear the cost of the service and therefore demand the best quality in return. I would like to commend Minister Ivanovski and his team for their own commitment to this initiative and say that I am proud the UK had been chosen as a partner.
Our Deputy Ambassador Christine Winterburn also shared experiences at the workshop along with the Deputy Minister for Information Society and Administration Marta Arsovska-Tomovska. She addressed management practices in the UK, the role of the human resources manager as a business partner and the lessons that the public administration sector can learn from the business community.
The project is supported by the UK Government and is being implemented with the Macedonian Ministry of Information Society and Administration. The last phase which will conclude in March 2015 involves preparations for the new legislation that Macedonia will implement to improve its public administration system.
Published 18 February 2014