World news story
Swire visits Brazil to build on opportunities for cooperation
From:

Part of:

Published:

27 September 2013
This was published under the 2010 to 2015 Conservative and Liberal Democrat coalition government
Minister of State for Latin America at the Foreign & Commonwealth Office, lands in Brazil at the end of this month.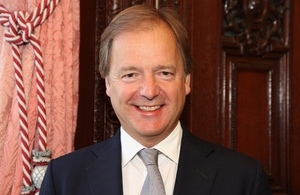 The Minister's programme will start in Porto Alegre on 30 September, when he will witness the signing of a Memorandum of Understanding between King's College and the Federal University of Rio Grande do Sul on biological research.
The Minister said:
This is an area in which there should be more cooperation between our two countries. The UK is renowned for scientific research in this area, from discovering DNA to the first animal clone, Dolly the sheep; while Brazil leads the world on knowledge of biodiversity, agriculture and tropical diseases.
In Porto Alegre, the Minister will meet the acting Governor of Rio Grande do Sul, Beto Grill, and the acting Mayor Sebastião Melo. Wide ranging discussions will include potential commercial cooperation ahead of the World Cup.
Mr Swire will then fly to Brasilia, where he will participate in a reception celebrating 30 years of Chevening and the return of the first cohort of Brazilians to study in the UK under the Science Without Borders programme. Swire commented:
As well as their educational value, student exchange programmes like Chevening and Science without Borders are important ways for the UK and Brazil to deepen our ties. Over its 30 years, Chevening has funded more than 1,400 scholarships for Brazilian students. Last year, the UK welcomed more than 1,100 students to the UK, and we are glad to be welcoming more this autumn.
The Minister's visit will end in Sao Paulo, where he might witness another agreement, this time with the State Government on education, infrastructure and transparency.
More information:
Barbara Taborda Reis
Tel.:+55 11 3094-1868
Mobile: +55 11 9 6300-0585
E-mail: barbara.reis@fco.gov.uk
Notes for editors:
Rt Hon. Hugo Swire MP is Minister of State for Latin America in the Foreign & Commonwealth Office. He was appointed on 4 September 2012. He is the Conservative Member of Parliament (MP) for East Devon. He was first elected to Parliament in 2001. Prior to becoming a Foreign Office Minister he was Minister of State for Northern Ireland from May 2010 to September 2012 and Shadow Secretary of State for Culture, Media and Sport from 2005 to 2007.

Chevening Scholarships are the British government's global scholarship programme funded by the Foreign Office and partners. The scholarships are awarded to students of excellence in their fields and have a potential for leadership. More details on Chevening Scholarship for Brazil.
Document information
Published: 27 September 2013