World news story
Hugh Robertson visits the Occupied Palestinian Territories
British Minister expresses concern at abduction of Israeli teenagers and situation on the ground.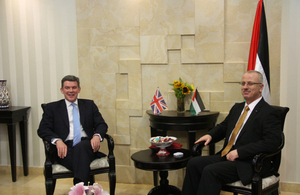 The UK Minister for the Middle East, Hugh Robertson MP, visited the Occupied Palestinian Territories yesterday before going on to visit Israel. He met with the Palestinian Prime Minister and saw the situation on the ground through visits to the Jordan Valley towns of Jiftlik and Jericho.
The Minister met Palestinian Prime Minister Professor Rami Hamdallah at his office in Ramallah.
Mr Robertson raised the recent kidnapping of three Israeli youths, and expressed hope that the case would be resolved quickly and safely. The Minister also expressed concern at the situation on the ground including the deaths of Palestinians in the West Bank and Gaza over the last week.
The Minister visited the Jordan Valley village of Jiftlik, where the UK is helping the village to plan for a sustainable future, including new wells and infrastructure. He inspected the Palestinian Police Training College in Jericho, where he saw first hand UK-funded police training to provide security for the Palestinian people.
At the end of his visit, Minister Hugh Robertson said:
I am deeply concerned by the tension on the ground on my third visit here as a Minister.

Every effort must be made to ensure that the three Israeli youths are released safely back to their families. It is vital that we avoid further escalation.

I reiterated to Prime Minister Hamdallah today Britain's commitment and support to building effective and strong Palestinian institutions. I was proud to see how UK support is helping train the Palestinian police. I was impressed during my visit to the Palestinian Police training college by the security forces' professionalism and commitment.
Published 19 June 2014