Hugh Robertson visits elite athletes in training
National training facilities support British success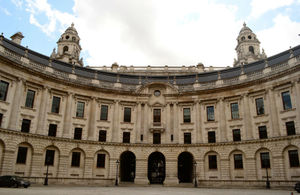 Sports and Olympics Minister, Hugh Robertson, yesterday visited the England men's hockey team training at Aldershot ahead of the Indoor World Cup.
The team were putting in their final preparations before heading over to Poland for the tournament next month. This will be the first time that England men have competed in the event and have been drawn in the same pool as Austria, Russia, Czech Republic, USA and Iran.
Cornerstones of Team GB's success
Mr Robertson also visited Bisham Abbey - one of four national sports centres - where he watched players from the tennis academy being put through their paces and spoke to the GB female rowing and canoeing team who were also training.
Bisham Abbey provides training and competition facilities to a range of national governing sports bodies with leading sport science and medical support provided by the English Institute of Sport. It was one of the cornerstones of Team GB's record success in Beijing, with 24 Olympian and 8 Paralympian medalists training at Bisham.
Further information
Published 28 January 2011