News story
Huge opportunities for UK firms in Turkey
The visit is the first by a UK Business Secretary for a decade and underlines the importance of the two countries ambition to double bilateral…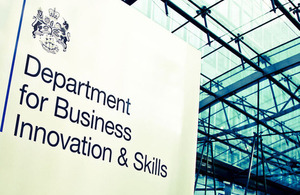 The visit is the first by a UK Business Secretary for a decade and underlines the importance of the two countries ambition to double bilateral trade by 2015.
This visit builds on that of Minister for Trade and Investment Lord Green in April this year, and follows the Prime Minister David Cameron's establishment of a new UK-Turkey Strategic Partnership with Prime Minister Erdo?an in July 2010.
Business Secretary, Dr Vince Cable, said:
"I am delighted to be visiting Turkey and bringing British companies with me. Turkey has an enviable record of economic growth over the last decade; reaching almost 9 per cent last year.
"Turkey is an important business hub in the region - with its reach into the EU, the Middle East and Central Asia. Istanbul is already establishing itself as a regional centre for financial services.
"There are big opportunities for both British and Turkish firms to seize. The size and stature of the delegation accompanying me here signals the clear and growing importance of the Turkish market for British companies."
Dr Cable is visiting Ankara and Istanbul from 25-28 September. During this three-day visit, he will meet senior Turkish Ministers and government officials. He will sign the UK-Turkey Knowledge Partnership with Turkish Economy Minister Zafer Ça?layan, and attend the formal launch of this collaboration at Sabanci University in Istanbul. He will also make a keynote speech at the Istanbul Financial Centre Summit.
With the accompanying business delegation, Dr Cable will attend a working lunch and meet representatives from Turkish business organisations including the Business Network and TUSKON.
Members of the UK business delegation include household British names such as Fosters+Partners, Rolls Royce, GSK and Legal & General, as well as innovative SMEs such as Redmint Communications and Poke.
Elizabeth Fells, CBI Head of International Strategy, who is on the business delegation said:
"The UK is a significant investor in Turkey, with more than 2,000 UK companies operating throughout the country. With Turkey's economy growing fast, and with strong prospects for continued expansion, there is considerable potential for the UK's trade and investment ties with Turkey to be strengthened further. "
The launch of the Tesco Supplier Academy Initiative will also take place during the visit.
Tesco Kipa CEO, Paul Ritchie, said:
"Turkey is an important market for us as a business based in the UK and we are keen to contribute to an already prosperous UK-Turkey economic relationship. Tesco Kipa currently has 131 stores across Turkey and we have ambitious plans to increase this to 150 stores by the end of the financial year. The great benefit to operating in Turkey is that we can develop new partnerships, knowledge and skills, which we can ultimately transfer back to the UK retail market."
Business delegation quotes
AECOM
---
AECOM is a leading global provider of professional technical and management support services. They provide planning, consulting, architectural and engineering services for a broad range of infrastructure and transportation projects
Ed Plewa, AECOM Director Transportation for Europe & CIS said:
---
"With a growing economy and urgent needs for additional transport infrastructure Turkey is seen by AECOM as a key market for growth, both within its own borders and regionally."
**BAE systems **
BAE Systems is a global defence and security company with approximately 100,000 employees worldwide. The Company delivers a full range of products and services for air, land and naval forces, as well as advanced electronics, security, information technology solutions and support services. BAE Systems has considerable experience of assisting in the development of indigenous defence capabilities in markets around the world. It already has a strong track record of collaboration with Turkey through FNSS, its military vehicle joint venture with Nurol Holding.**
---
BAE Systems Managing Director for Europe & the Americas Martin Bennett said:
"Both Turkey and the UK have significant maritime experience. Combining this expertise is an exciting and attractive prospect."
**Foster + Partners **
---
This leading British architectural firm has constructed many high profile glass and steel buildings globally including new Wembley Stadium and Millau Viaduct in France (the highest road bridge in the world).**
---
Nigel Dancey, Design Director said:
"Foster + Partners has been working in Turkey since 2006, when we developed designs for a sustainable coastal resort, and more recently with our high-rise and mixed-use projects in Istanbul. The property market is incredibly dynamic, with the opportunity for considerable growth - the combination of a strong economy and skilled local resources has created an attractive marketplace. But for architects, it's the many layers of Turkey's rich cultural legacy that make the country most compelling - its history is incredible. The diverse influences from the east that were carried along the silk route, the fusion of different styles - from the many different forms of Islamic architecture to Baroque palaces - make it a fascinating place to be working."
**GSK **
GSK is one of the leading research-based pharmaceutical companies in the world, producing medicines that treat major disease areas such as asthma, infections, mental health, diabetes, cardiovascular and digestive conditions. In addition, GSK is a leader in the important area of vaccines and are developing new treatments for cancer.
Yigit Gurcay, General Manager Turkey said:
"Turkey is one of the key markets for GSK in terms of its contribution to the region with its strategies, projects as well as its markets success. GSK has been present in Turkey for more than 50 years and will continue to support this country's healthcare system. GSK is determined to support the development of R&D and innovation in Turkey."
---
Legal and General
---
Legal and General is a leading provider of risk, savings and investment management products in the UK.**
---
Hande Love, Turkey Development Director said:
""Legal and General, with 175 years of heritage, is the largest bancassurer in the United Kingdom.? It is committed to selling the right product to the right people in the right way, and this commitment has led L&G to enter into joint venture partnerships with leading public sector and private banks in developing insurance markets. L&G believes its customer centric bancassurance model will be unique to the Turkish market and now wishes to secure a leading bank as a partner. L&G has had initial discussions with public sector banks and would welcome the support of the Turkish Government."
---
Lodge Cottrell Ltd
---
This firm is a leading specialist in air pollution control, providing essential air pollution systems for large-scale industries.
General Manager and Company Secretary, Kevin Bridgewater said:
"There will be $3bn pa invested in the electricity generation infrastructure. Due to current legislative requirements there will be a substantial amount of air pollution control measures included in these capital projects. Associated with the demand for additional power will be increased necessity for cement and steel. These are the predominant industries that our company supports."
London** Metal Exchange**
---
The London Metal Exchange (LME) is the world's premier industrial metals market
Martin Abbott, Chief Executive of LME said:
"The LME and the Turkish Steel Industry have been working together since 2007 to bring jobs and new opportunities to the steel and logistics industries in the country."
"While benefits have already been seen, more work needs to be done."
Poke London
---
Poke is a highly awarded creative agency producing innovative digital communication and product & service design. The company works globally to solve its clients' business problems through creative and digital strategy, design and development.
Head of Commercial Development and Business Strategy, Matthias Metternich said;
"Turkey's digital landscape is one of the most dynamic and rapidly evolving in the world. Its audience is young and their appetites for innovation and creativity limitless."
Redmint Communications
This marketing consultancy sells high-impact, bespoke marketing and communications strategies
Director Ceyda Pekenc said:
__
"It's fantastic to see such growth in British companies keen on doing business in Turkey or expanding their operations there. Turkey has the youngest population in Europe with a dynamic, growing economy at over 8% this year, so presents a huge opportunity for British companies who can present a quality offering at competitive prices."__
TheCityUK
An independent membership body for promoting the financial and professional services industry in the UK and overseas.
Director of International Strategy, Wayne Evans said:
"TheCityUK recognises Turkey's growing political and economic importance in the region. We will actively promote Turkey as a key market to our members and encourage them to work with Turkish partners to develop new business in Turkey and through Turkey the wider region.
**The Weir Group PLC
**
Engineering firm, Weir Minerals Europe is part of the Minerals Division of the Weir Group PLC, a FTSE 100 company, focusing on the Minerals, Oil & Gas, and Power & Industrial markets. The Weir Group is a global operation, and as Weir Minerals Europe continues to grow across Europe and Middle East, they will be expanding in Turkey with a sales office in Istanbul, to be followed by a service centre strategically located to provide a direct service to customers.
Regional Managing Director Weir Minerals Europe, Kevin Andrew Spencer said:
"Turkey has been a growth market for WME for several years with the firm establishing strong relationships with local key operators within the mining, power and general industrial sectors. The business continues to grow with sales increasing across our full product range. As the Turkish mining sector and general economic conditions have improved now is the time for WME to create a direct presence. Our objective is to be closer to our customers and give them improved levels of service and support. To this end we will establish a sales office by the end of 2011 and a service centre in Turkey by the end of 2012 which will provide us with the right foundations to develop a successful business to service Turkey over the long-term."
URS Scott Wilson
URS Corporation is a leading provider of engineering, construction and technical services for public agencies and private sector companies around the world.
Stewart Vickers, Director - URS Corporation said:
"URS is very much looking forward to supporting the UKTI trade mission to Turkey. Turkey is a country with many growth opportunities and markets whereby international companies such as URS can provide support and contribute greatly to its infrastructure development."
UK-Turkey fact file
---
The UK and Turkey have a strong and growing trade relationship across many sectors. Turkey is the UK's 20th largest export market and bilateral trade is worth over £9 billion per year.

With a commitment to doubling bilateral trade by 2015, this is growing rapidly. UK exports to Turkey rose by 30% Jan-Jun 2011 compared to the same period in 2010, and Turkish exports to the UK rose by 11% for the same period.

Turkey's economy grew by 11% at the start of 2010, and is projected to be the second fastest-growing economy in the world by 2017 and Europe's second largest economy by 2050.

Turkey's population of 76 million makes it one of the world's largest markets; the average age of the population is 28 against 38 for Russia, 39 for UK and 44 for Germany, giving Turkey more young people than any of the European Union's twenty seven countries.

That young, well-educated population also means that Turkey offers a responsive workforce as well as a lively consumer market.

The UK is very well placed to do even more business with Turkey. We are already the second largest investor in Turkey, with more than 1,800 UK companies operating there, including many household names such as Tesco, Rolls Royce and GlaxoSmithKline.
---
**Media contact **
For more information, please contact the UKTI Press Office on 0207 215 8483
**Notes to editors **
---
UK Trade & Investment (UKTI) is the government department that helps UK-based companies succeed in the global economy. We also help overseas companies bring their high quality investment to the UK's economy - acknowledged as Europe's best place from which to succeed in global business. UKTI offers expertise and contacts through its extensive network of specialists in the UK, and in British embassies and other diplomatic offices around the world. We provide companies with the tools they require to be competitive on the world stage. For more information on UKTI, visit www.ukti.gov.uk or telephone +44 (0)20 7215 8000. For latest press releases, visit the online newsroom at www.ukti.gov.uk/media. You can also keep in touch with developments at UKTI through www.blog.ukti.gov.uk, www.twitter.com/ukti and www.flickr.com/photos/tags/ukti
Notes to Editors
Contact Information
Name BIS Press Office Job Title
Division COI Phone
Fax
Mobile
Email NDS.BIS@coi.gsi.gov.uk
Published 26 September 2011