News story
Huddersfield factory gears up for green growth
Huddersfield business David Brown Gear Systems has successfully secured £4.8 million of private sector and government funding from the Regional…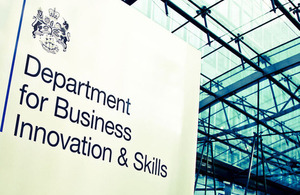 Huddersfield business David Brown Gear Systems has successfully secured £4.8 million of private sector and government funding from the Regional Growth Fund, Deputy Prime Minister Nick Clegg and Business Secretary Vince Cable announced during a visit to the business today.
The funding will help create around 80 new jobs at the David Brown factory thanks to the funding programme which sees government and the private sector working together to boost regional growth.
The company, which is a leading manufacturer of gear systems including those for submarines and trains, will use the funding to extend its reach into the renewable energy market, stepping up production of special gears for wind turbines by creating a wind turbine research and development innovation centre. David Brown will be investing around £2.8 million in addition to the government funding.
The Deputy Prime Minister and Business Secretary will visit the factory today to sign the legal contracts that will deliver the money. This follows a period of strict checks by the company and the government to ensure the deal offers the best value for money for taxpayers.
The Deputy Prime Minister Nick Clegg said:
"Not only is it great to be announcing new jobs here in Huddersfield today, but it's fantastic that David Brown is using the Regional Growth Fund to scale its operations up and out into the new and growing 'green' market.
"Creating jobs and growth is our number one priority for Britain right now.
"But it's not enough just to get us back to where we were. There can be no forgotten areas of Britain. We need to rebalance the economy by supporting growth in every region and across a range of industries. That's what the Regional Growth Fund is all about."
The Business Secretary also visited the University of Huddersfield for the official opening of the Engineering and Physical Sciences Research Council (EPSRC) Centre for Innovative Manufacturing in Advanced Metrology. This was established earlier this year when EPSRC awarded funding of £4.7 million to the University's globally-renowned Centre for Precision Technologies. A consortium of leading UK firms and organisations including Rolls Royce and David Brown Gear Systems, contributed a further £3 million.
The Centre has embarked on a five-year project bringing together leading researchers and businesses. The result will be that companies will be able to fit their existing machine tools with devices that ensure almost total accuracy during manufacture, saving money and improving efficiency.
Business Secretary Vince Cable said:
"This is a great boost to the economy in Huddersfield. The investment of £2 million announced today for David Brown and the support for the Centre of Innovative Manufacturing will help businesses in the area expand their capabilities. Support of this kind is vital if we are to help businesses create jobs where they are most needed and lever in important private sector investment. I'm looking forward to making more announcements of this kind in the coming weeks."
David Brown's Managing Director for Wind, Ian Farquhar said:
"David Brown has a clear growth strategy developed around expanding in key global markets including renewable industries such as wind and solar. We are delighted to have successfully secured this government funding which will enable us to maximise the growth potential of this opportunity.
"We have worked very closely with the University of Huddersfield, Leeds City Region Local Enterprise Partnership and Kirkless Council to ensure that the centre will drive innovation in Yorkshire and develop relevant, long-standing intellectual property alongside the delivery of academic support."
The £1.4 billion Regional Growth Fund uses public money to fund projects which will create long term jobs, sustainable growth and boost the local economy. The first round of the fund has provisionally awarded £450 million to 50 projects across the country, leading to the creation of 27,000 jobs and more than 100,000 additional supply chain jobs.
Applications for money for the second round of the fund closed on 1 July. Bids are currently being considered by Ministers. An announcement on the successful bids in the second round is expected in the next few weeks.
---
---
Notes to editors:
---
Since it was established in 1860 in Huddersfield, David Brown has grown to become one of the leading engineering companies specialising in the supply and servicing of gear products in the world. For example, its gearboxes can be found in Challenger Battle Tanks, high-speed trains and solar power plants.
The details of the bids received in the second round are commercially sensitive and we will not release details of these bids. Summary details of the bids received in both rounds are available here: http://www.bis.gov.uk/policies/regional-economic-development/regional-growth-fund
BIS' online newsroom contains the latest press notices, speeches, as well as videos and images for download. It also features an up to date list of BIS press office contacts. See [http://www.bis.gov.uk/newsroom](http://www.bis.gov.uk/newsroom) for more information.
Notes to Editors
Contact Information
Name BIS Press Office Job Title
Division COI Phone
Fax
Mobile
Email NDS.BIS@coi.gsi.gov.uk
Name Joanna Fletcher Job Title
Division Department for Business, Innovation and Skills Phone 020 7215 5951 Fax
Mobile
Published 13 October 2011