Press release
HS2 meets Welsh companies to talk business
HS2 will be running an event in Cardiff to speak to Welsh businesses about how to bid for contracts to build High Speed Two.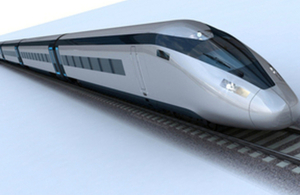 Event details:
Date: Thursday 25th June
Venue: Cardiff City Football Club
Media interviews: from 10.30 am - 11.00 am
Event start time: 2.30pm
Event end time: 2.30pm

High Speed Two Ltd and representatives from the Welsh Government will be in Cardiff next week to speak to around 100 Welsh businesses about how to bid for £10bn worth of contracts to build High Speed Two (HS2), Britain's largest infrastructure project.
The event, hosted by the Welsh Government, presents Welsh companies with an excellent opportunity to find out more about HS2's procurement process and will ensure that they have all the information required to bid for contracts.
Work on the first phase of the project is scheduled to start in 2017 and, at the peak of construction more than 40,000 people are expected to be working on the scheme.
Edwina Hart, Minister for Economy, Science and Transport said:
HS2 is an extremely significant investment in rail infrastructure that offers excellent supply chain prospects for companies in Wales. Our manufacturing, construction and civil engineering companies have considerable expertise and a track record of delivering excellent service and products that can add value to this project and create economic benefits for Wales.
The Welsh Government is actively pursuing all opportunities to promote the expertise and capability of the supply chain in Wales and I am delighted to host this HS2 event to maximise the opportunities that are here on our doorstep.
Beth West, HS2 Ltd Commercial Director, said:
Building HS2 is a massive long-term project, one that offers a huge opportunity for Welsh businesses to bid for £10bn worth of contracts, boosting jobs and skills across the country.
To deliver a project of HS2's scale and complexity we are committed to working with Welsh companies. I am extremely pleased that so many Welsh firms have already shown an interest in helping to deliver HS2 and I would encourage all businesses large or small to get involved.
To construct HS2 and then bring it to life will require a vast range of skills and expertise, some of which we have and some we'll need to develop. Put simply, HS2 is an investment in our infrastructure that will help more people to jobs and bring more goods to market.
Welsh businesses attending the event range from large firms employing almost 5,000 people to some employing fewer than 10 and supply a wide range of products, from structural steel to engineering and health and safety providers.
Tickets can be applied for through the Business Wales Events website
Places are limited so please register soon
Companies can obtain more information regarding HS2 Ltd's procurement process from SCC@hs2.org.uk
Press and media enquiries
For enquiries during office working hours, Monday to Friday, 9am to 5pm 020 7944 6149
For enquiries outside of these hours and at the weekend 020 7944 0550
The press and media enquiries line is for accredited journalists only
Published 19 June 2015