Press release
HS2 meets Northern Ireland companies to talk business
Northern Irish companies urged to grasp opportunities to bid for around £10bn worth of contracts to build Phase One of HS2, Britain's largest infrastructure project.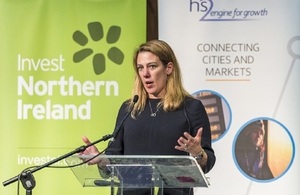 HS2 Ltd, representatives from the Northern Ireland Assembly and Invest Northern Ireland today met with Northern Ireland companies to urge them to grasp the opportunity to bid for around £10bn worth of contracts to build Phase One of HS2, Britain's largest infrastructure project.
The event, hosted by Invest NI presents Northern Ireland companies with an excellent opportunity to find out more about HS2's procurement process and will ensure they have all the information required to bid for future contracts.
Work on Phase One of HS2 is scheduled to start in 2017 and during construction will create up to 15,000 construction jobs and 2,200 permanent maintenance jobs.
Parliamentary Under Secretary of State for Transport, Robert Goodwill said:
HS2 provides an excellent opportunity for businesses across the UK, including Northern Ireland, to be part of one of Europe's largest infrastructure projects. As a one nation government, we want the whole country to benefit from HS2, and well in advance of trains actually running on the line.
HS2 has a broader aim than just helping people get around, it will help people get on. By rebalancing the economy, creating thousands of jobs, and developing skills now and for generations to come, we are investing in the future.
Speaking at today's event, Enterprise Trade & Investment Minister, Jonathan Bell MLA said:
I am delighted with the turnout at today's event which shows an encouraging interest from our construction and civil engineering sectors to find out more about Britain's largest ever infrastructure project, HS2.
HS2 is an extremely significant investment in rail infrastructure that offers excellent supply chain prospects for local companies here and our aim is to assist these companies as much as possible to become involved with the project.
Northern Ireland companies have already shown, through London 2012 and Crossrail that that we have the skills required to build world class infrastructure.
Our manufacturing, construction and civil engineering companies also have considerable expertise and a track record of delivering excellent service and products that will not only add value to this project but will help create economic benefits for the whole of Northern Ireland.
HS2 Ltd Commercial Director, Beth West said:
Building HS2 is a massive long-term project, one that offers a huge opportunity for Northern Ireland companies to bid for billions of pounds worth of contracts to deliver HS2, which will boost jobs and skills across Northern Ireland.
To deliver a project of HS2's scale and complexity requires the right companies with the right skills. I'm extremely pleased that so many local firms have already shown an interest and I'd like to encourage all Northern Ireland businesses large or small to get involved with HS2.
Put simply, HS2 offers a rare opportunity to secure a step-change in Britain's competitiveness, whilst promoting economic growth, creating thousands of jobs and driving regeneration.
Invest NI previously organised meet the buyer events for Crossrail which subsequently generated over £1 million of orders with Northern Ireland based firms.
Companies can obtain more information regarding HS2 Ltd's procurement process by contacting the Supply Chain team at SCC@hs2.org.uk
A presentation given at the event can be found here.
Press and media enquiries
For enquiries during office working hours, Monday to Friday, 9am to 5pm 020 7944 6149
For enquiries outside of these hours and at the weekend 020 7944 0550
The press and media enquiries line is for accredited journalists only
Published 10 September 2015