Press release
HS2 inspires future generations of female engineers
HS2 Ltd is supporting National Women in Engineering Day by meeting pupils in Hemel Hempstead to talk about HS2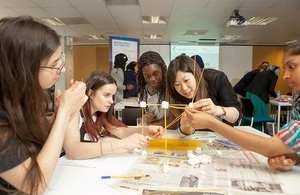 To mark National Women in Engineering Day on 23 June female engineers from HS2 Ltd are meeting pupils at a school in Hemel Hempstead to talk about the wealth of opportunities in the industry.
The event, part of HS2 Ltd's science, technology, engineering and maths (STEM) inspiration programme, will be attended by 40 year 9 girls from The Cavendish School.
Organised in partnership with The Smallpeice Trust, one of the key aims of the day is to teach the students about the applications of STEM subjects, introduce them to our successful women engineers, and promote the engineering industry as an exciting, challenging sector in which to work.
Students will mix with the engineers in 'speed networking' where they will get the opportunity to find out how our engineers got where they are today, and what their daily work involves. The students will also take part in practical activities that allow them to start thinking like engineers and understand the real-life applications of engineering.
Beth West, HS2 Ltd Commercial Director, said:
Our female ambassadors are working to spread the message that being a woman is not a barrier to working in the rail industry.
HS2 is a 21st century project and we want to lead by example on diversity. We strongly believe in the value of women in the workforce and currently a third of our engineers and our executive team are female. We will build on that along with the wider industry, where only 6 per cent of the engineering workforce is female.
Simon Kirby, HS2 Ltd CEO, added:
Over the life of the project HS2 Ltd will be offering 2,000 apprenticeships to young people and 100,000 jobs. 75 per cent of students have a better idea about how academic choices affect their career path after speaking with an employer. So, days like today are really important as we need young qualified people to move into these roles and drive forward our future infrastructure development.
Lord Ahmad, Transport Minister, said:
This government's investment in world-class infrastructure, like HS2, will create jobs and opportunities across the country as part of our long-term economic plan.

We need to make use of all available talent to ensure Britain stays on the right track. Women currently make up a tiny proportion of our surveyors, engineers and construction professionals. We need to overhaul the sector's image, so engineering and construction are a more attractive career option for women. A diverse workforce means a more successful workforce, which is why I am backing this campaign.
Press and media enquiries
For enquiries during office working hours, Monday to Friday, 9am to 5pm 020 7944 6149
For enquiries outside of these hours and at the weekend 020 7944 0550
The press and media enquiries line is for accredited journalists only
Published 23 June 2015