News story
HRH The Princess Royal Visits RFD Beauford Ltd Dunmurry Belfast
HRH The Princess Royal and the Rt Hon Owen Paterson MP, Secretary of State for Northern Ireland Visits RFD Beaufort Ltd Dunmurry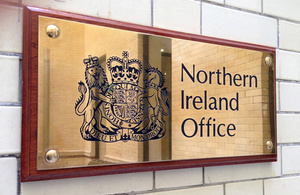 On the first engagement of the day HRH The Princess Royal visited RFD Beaufort Limited, Dunmurry, Belfast. Upon arrival HRH was greeted by the Lord-Lieutenant of County Antrim, Mrs Joan Christie OBE and Mrs Moya Johnston, Managing Director of RFD Beaufort Ltd, who accompanied HRH throughout the company visit. Throughout the day HRH was accompanied by Secretary of State for Northern Ireland, the Rt Hon Owen Paterson MP.
RFD Beaufort Ltd, part of the Survitec Group of companies, is a global leader in the manufacture of safety and survival products to the marine, defence and aviation industries, supplying to some of the world's navies, airlines and largest cruise and shipping operators. Established in 1920, manufacturing commenced in the Dunmurry site in 1952. The company has an integral role in supporting the local economy and gives skilled employment to over 280 people. Company turnover has increased by 40% in the last three years to £43m.
In the reception area HRH received a brief company overview from Doug Baxter, Chief Executive Officer, Survitec Group, before moving inside the factory where she met Operations and Sales office staff and listened to a brief overview of some of the company developments and improvements during the previous two years. HRH also had the opportunity to meet a small number of Sales and Engineering staff at their workstations.
At the Production Bays HRH met members of the production team and viewed a display of single-seater Liferafts and Babycots. HRH also viewed a 1000 Series Survival Suit and a Shark LAP jacket.
In the Lifejacket Department HRH met a number of team members and viewed a Lifejacket demonstration. Later at the MarinArk build bay HRH viewed a number of operations, before watching a short video of the rough sea trials in Norway for a MarinArk.
Moving to the Operational Packing area, HRH met staff and viewed a display of rafts and packing items, including a Surviva Mk4 Solas Raft, Leisure Raft and a Marinark, and viewed a test deployment of a Surviva Liferaft.
Prior to departure, Mrs Moya Johnston said a few words of thanks and presented HRH with a gift of an engraved crystal paperweight, before inviting her to sign the visitors' book.
Following farewells HRH departed for the next engagement
Published 10 November 2011