News story
HRH The Princess Royal Visits Lagan Valley Midwifery Led Unit
HRH The Princess Royal visits Lagan Valley Midwifery Led Unit, Lisburn. HRH met with staff, ladies using the facilities and a new born baby.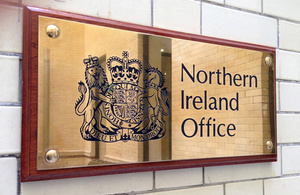 Her Royal Highness The Princess Royal, accompanied by The Rt Hon Theresa Villiers MP, Secretary of State for Northern Ireland, today visited Lagan Valley Midwifery Led Unit in Lisburn.
Upon arrival HRH was greeted by the Lord Lieutenant of County Antrim, Mrs Joan Christie OBE. She then met with President, Royal College of Midwives, Professor Lesley Page; Midwifery and Children's Advisor, DHSSPS, Mrs Zoe Boreland; and Director Northern Ireland, Royal College of Midwives, Ms Breedagh Hughes.
Lagan Valley Midwifery Led Unit (MLU), opened on 2 February 2011, is a standalone Maternity Unit staffed and run by a team of highly skilled experienced midwives who provide antenatal, intranatal and postnatal care to women and their families. It offers a homely, relaxed, supportive atmosphere, catering for all women who wish to have a birth with no medical interventions. It offers both an outpatient and inpatient service. The outpatient service contains assessment/clinical rooms with scanning facilities. In the inpatient area there are 4 labouring/birthing/postnatal rooms; 3 of these rooms have an attached birthing pool.
Outside the Assessment Room in the Maternity Unit, HRH met Mr Colm McKenna, Chairman, South Eastern Health & Social Care Trust (SEHSCT) and Mr Hugh McCaughey, Chief Executive, SEHSCT.
In the Outpatient Department HRH met staff and a pregnant lady undergoing an ultrasound scan.
Later HRH met representatives from the Royal College of Midwives (RCM), senior staff from SEHSCT, invited guests representing the wider health sector, and a family who have recently used the facilities.
Prior to departing for her next engagement, HRH unveiled a plaque to commemorate her visit to the Maternity Unit, before 2 year old Karen Cooper, the first baby delivered in the unit, presented her with a posy.
Published 12 November 2013