World news story
HRH The Princess Royal honours Jacques Rogge at Buckingham Palace
The Princess Royal presented Jacques Rogge with an honorary knighthood for his service to the Olympics, in particular the London 2012 Games.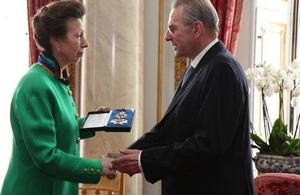 On Tuesday, 25 February 2014, Belgian former International Olympic Committee President Jacques Rogge received an honorary knighthood (Knight Commander of the Order of St Michael and St George) at Buckingham Palace for his years of service to the Olympics and in particular for his work on the London 2012 Olympic Games.
The knighthood was presented by Her Royal Highness The Princess Royal (Princess Anne), daughter of Queen Elizabeth II and member of the International Olympic Committee.
The British Ambassador to Belgium, Jonathan Brenton said:
It is great that just after the Winter Olympics in Sochi, Jacques Rogge was honoured at Buckingham Palace for all the excellent work he has done for the Olympics in general and for the London 2012 Olympic Games in particular.
Her Royal Highness The Princess Royal, an Olympian herself, presented the honorary knighthood in the presence of another great British Olympian and Chair of the British Olympic Association, Lord Coe.
With this knighthood we say thank you to Jacques Rogge for his commitment and energy in pursuit of the Olympic values which he demonstrated so admirably in London.
Follow us on Twitter and Facebook for the latest news on Belgian-British relations.
Published 26 February 2014