Press release
HRH The Prince of Wales attends reception in Larne Borough Council
HRH meets with representatives of the farming community affected by severe weather at a reception in Larne Borough Council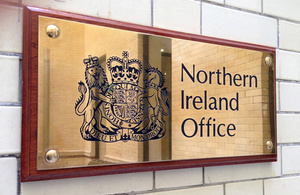 On his second engagement of the day, HRH The Prince of Wales attended a reception hosted by Larne Borough Council to meet with members of the community who were affected by the recent severe weather. On arrival at Larne Town Hall HRH was greeted by the Lord Lieutenant of County Antrim Mrs Joan Christie OBE, Chief Executive of Larne Borough Council and Sammy Wilson MP MLA for East Antrim.
The Antrim Glens covers an area of almost 300sq miles, and the farming community consists largely of farmers focusing on sheep and cattle farming. During the period of severe weather earlier in the year, many families were stranded in their homes without access to food or water, and their livestock was lost in the severe snow drifts that followed.
HRH was presented to a number of groups representing the farming community who were affected by the severe weather as well as the many agencies which provided much needed support.
Prior to farewells, Mrs McGahey invited HRH The Prince of Wales to unveil a plaque to commemorate the visit and sign the visitor's book.
Published 25 June 2013