News story
HRH The Earl of Wessex visits Lagan College Belfast
Lagan College was founded in 1981 as a religious response to the challenge of community conflict and a religiously divided school system in Northern Ireland.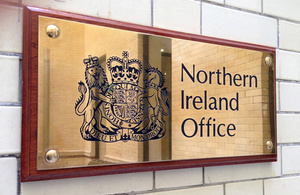 HRH The Earl of Wessex today visited Lagan College, Belfast. Upon arrival HRH was greeted by Mr David Lindsay, Lord-Lieutenant of County Down. Moving inside and accompanied by Mrs Amanda McNamee, Principal, Lagan College, HRH met Desi McNally, Deputy Principal, Roisin Harbinson, Vice Principal, Gareth Bartlett, Assistant Head Boy, and Rhiannon Stewart, Deputy Head Girl.
Lagan College was founded in 1981 as a religious response to the challenge of community conflict and a religiously divided school system in Northern Ireland. As of September 2011 there are 1253 pupils and 30 staff at the College. This academic year the College, which promotes the values of diversity, tolerance, friendship, service, equality and respect for all, is celebrating its 30th Anniversary.
In the Science Class HRH met Teachers Maureen Wells and Liam Mathison Wightman and a number of students from the Junior Class involved in science based experiments.
Upstairs in the ICT Suite HRH met Teachers Aidan McCanny and Sharon McKee and a number of students from the Junior ICT Class and viewed a media presentation.
Downstairs in the Main Hall  HRH listened to the College Choir singing a song entitled "Lean on Me" and met Oonagh Donnelly, Head of Music Department and Maria Hoy, Assistant Head of Music and members of the choir. A violinist provided background music as HRH met a number of groups representing the following areas: Chaplaincy - College Chaplains Helen Killick and Sharon Veroerd. Chaplaincy is a unique feature of Lagan College in that no other school in Northern Ireland has a joint chaplaincy to support Christian ethos and values of the college.
HRH met the Students Council, led by Aine MacParland, representing the students voice within the college and who are involved in a Year 8 Peace Conference organised for June 2012, and also a Sierra Leone Project led by Brendan Dowd where the students have committed to raise £15,000 to help children in Sierra Leone to access educational resources and facilities, to coincide with the opening of the new college in June 2013.
HRH went on to meet the Junior Justice Group which is looking at global and humanitarian welfare issues and has initiated the school's Fair Trade Policy and met Year 11 and 12 Bronze holders and participants in The Duke of Edinburgh's Award, led by Dave Ewart.
Moving on, HRH met the World Challenge Group led by Rev Robert McKee who has been involved in the World Challenge Programme for a number of years. This year's visit is to Tanzania to support a community project. HRH also met the Eco Committee, led by John Paul Patton, which has twice achieved the Eco Green Flag award.  
HRH met students of the STEM Club led by Claire Murphy involved in a number of Science, Technology, Engineering and Maths (STEM) initiatives, including three Year 9 students who were awarded the Sentinus Young Innovators Award in 2011. HRH also met Young Enterprise Groups led by Kim Bingham. The students received the 2012 "Prestigious Young Enterprise Award" for entrepreneurial, innovation in business acumen.
Later HRH met Mr Reavey from Grahams Construction who are  responsible for the planning and construction of a £30m build and refurbishment of the College due to be completed in June 2013. The company and college students were also involved last year in a project focusing on Japan and the recent Tsunami.
On the stage Mrs McNamee spoke a few words of welcome and invited two Year 8 students, Michael Hare and Morgan Moffett, to make a short presentation on their experiences of attending an Integrated College.
HRH was invited to cut a cake to celebrate the College's 30th Anniversary, before Deputy Head Girl Rhiannon Stewart presented him with a gift of a book entitled "The Struggle for Shared Schools in Northern Ireland: the History of All Children Together" by Jonathan Bardon.
Prior to farewells and departure for the next engagement HRH signed the visitors' book.
Notes to Editors
Upon arrival HRH was greeted by Mr David Lindsay, Lord-Lieutenant of County Down and went on to meet:
Councillor Jim White, Mayor, Castlereagh Borough Council
Mayoress, Lynda White
Mr Stephen Reid, Chief Executive, Castlereagh Borough Council
Dr Alasdair McDonnell MP MLA, Member of Parliament for South Belfast
Dr Ian McMorris, Chairman, Board of Governors, Lagan College
Mrs Amanda McNamee, Principal, Lagan College
Published 15 May 2012